I honestly couldn't tell you the last time I bought a perfume. When I say perfume I mean a branded one, fashion house, eau de toilette or eau de parfum. Why? I don't have the budget! No, that's a lie….If I buy one fragrance for £30-50 I could spend that on a multitude of different things I love such as gin, wax melts, bath bombs, books etc. So keeping it cheap and cheerful but still wanting to smell nice means body mists are one of my must buys. Delicious Destinations from Superdrug is what I douse myself with at the moment. At a cost of £3.99 ( at the time it was half price ) for 100ml.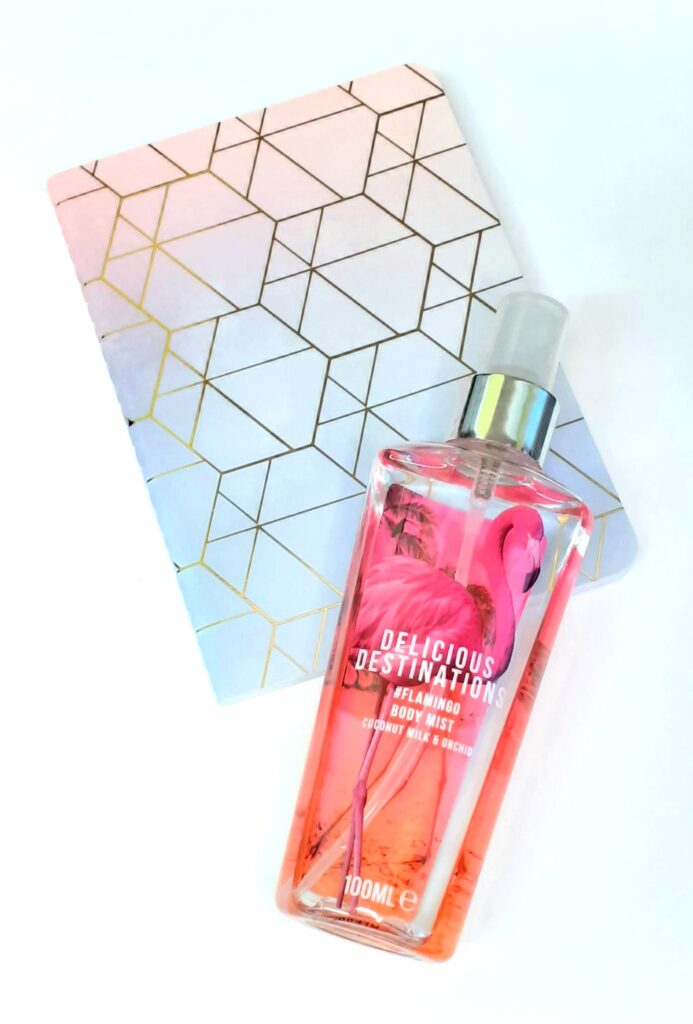 Why did I buy this one? I like to smell nice! Body mists are affordable so I buy one or five at a time. But going for this particular fragrance was because I love sweet and fruity scents. Anything these days that has a connection with unicorns, flamingos or lamas seems to be part of that fragrance range so I assumed Delicious Destinations Flamingo would fall into that category.
Packaging. This mist comes in a plastic bottle with a pump spray to release fragrance. The shape of it is nice, not straight up and down. But wider at the top and gets more narrower further down. On the front is a picture of a flamingo. On the back all the information you need e.g ingredients, on a colourful, bright, ombre effect label.
Scent Description. On Superdrug's website it just says this is bold, feminine and flirty! But on the actual bottle it keeps it much more easier to digest and says coconut, milk and orchid!
My scent description. Slightly floral but delicate. I hate floral on its own and when its strong, but find it creates a lovely base for many a fragrance and it does with this one. Coconut is there too. Think of the usual coconut fragrance you get with most things and that's what this is. So it has a tropical edge to it and sweetness. The milk bit I can only assume is coconut milk rather than milk on its own, because there is a slight creaminess to this. Overall it's a nice fragrance, quite summery and one that has my name all over it.
Strength & Longevity. Strength I would say is light to medium. I am not sparing with this body mist at all! My uniform and coat before I start work gets a generous spritz, and that will last me for the whole 4 plus hours of physical work. I feel it does lessen over that time in strength but it's there, which is what you want.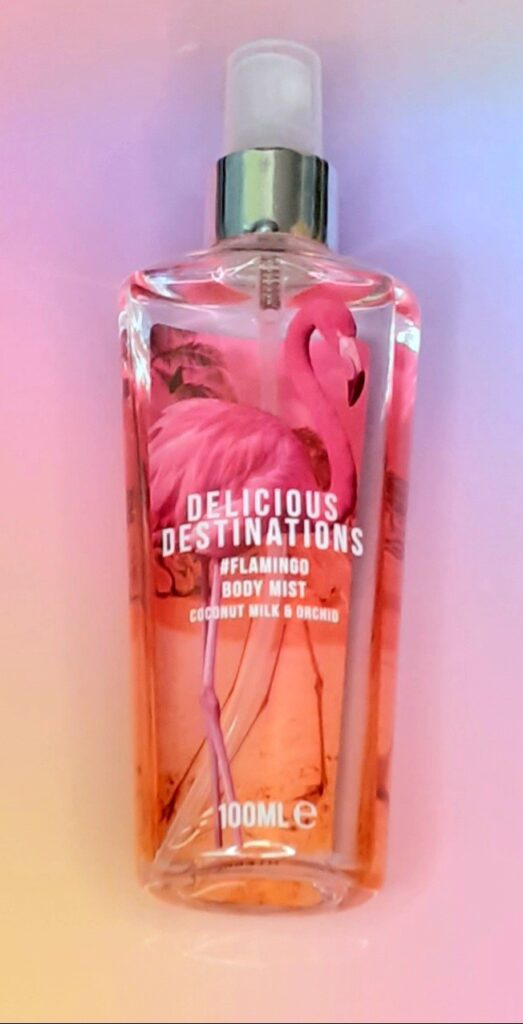 Recommended? Yes! For a few reasons. One, it smells nice. Two, its a good size and even if like me you use this a lot, it should last awhile. Three, it has a good strength and longevity about it but you won't smell like a 5 year old has gone to town with your fragrance playing grown up. And fourthly, this and other scents in the range are regularly on some form of offer. So whether its half price or buy one get one free, its super affordable!
Want to smell like you are on holiday? Closest any of us will be to that I'm afraid for now! Get yours from Superdrug here. *at time of writing this, this currently is half price. PLUS, if you want this but in a stronger formulation e.g eau de toilette, here it is! Also half price! Kerching!