It's rare that I do a blog post in parts 1 and 2, but sometimes you get your hands on something that requires more time and words to review than just a standard post. If you keep up to date with my blog posts, you will know last week I gave an overview on a Harry Potter Inspired Wax Melt Box from a wax vendor called Fizzy Smelts. Today's post is more about how these pieces melted, their strength, longevity and of course how they smelt.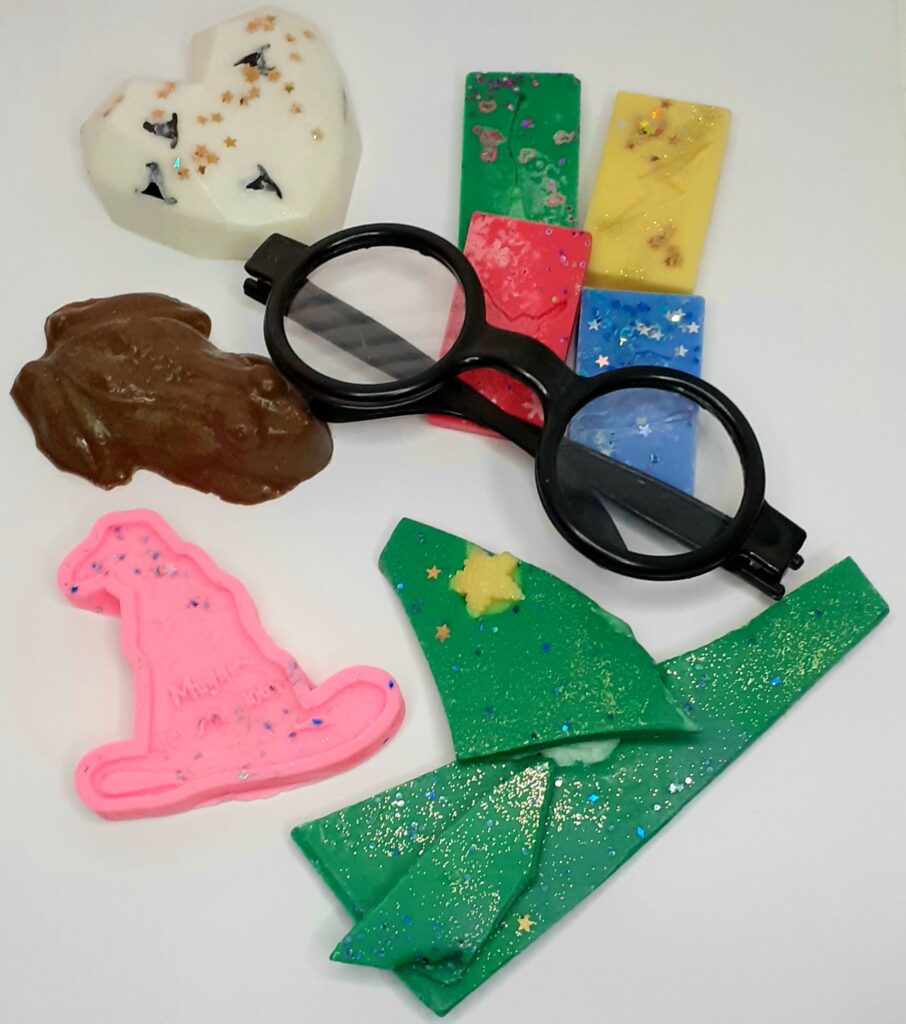 Maple & Elm.
I expected something quite woody fragrance wise from this wax brittle. What I got was something more bakery based. Sweet, literally smelt like maple syrup with a slightly spicy undertone to it. THIS is definitely Autumnal. The wax pool left was a stunner! A shimmering emerald green which was beautiful. Strength wise, I would say light but closing into medium. It wasn't a force to be reckoned with but filled my kitchen naturally as if that scent was meant to be there. I had this melting for 2 days and I felt that was then time to change it as the scent became less.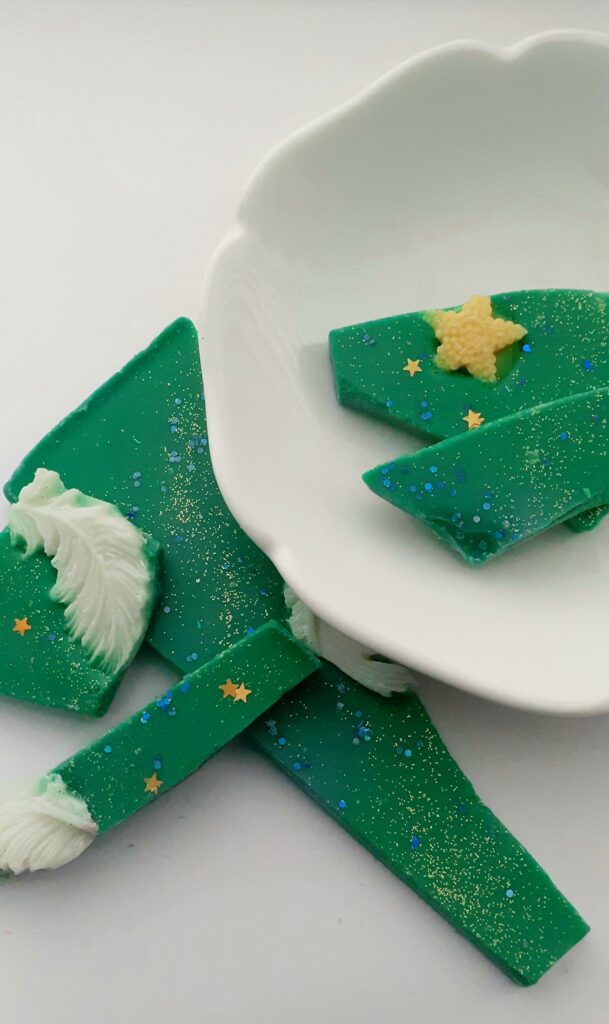 Turkish Delight.
I have to be honest, I don't know what Turkish Delight smells of because I tried it as a kid and it grossed me out. But what this cute froggie does smell like is dark chocolate mixed in with a perfumed rose. I'm not a rose fan and this is very much rose and screams floral, but this combo is a killer and a winning one. I ADORE this scent and have to say I am so glad I got the chance to try it out! Strength wise I would say this was medium to strong. I melted this in my living room in the morning. Came home afternoon, opened the door and BANG! Longevity just as great. I changed this after 3 days and the fragrance was still going.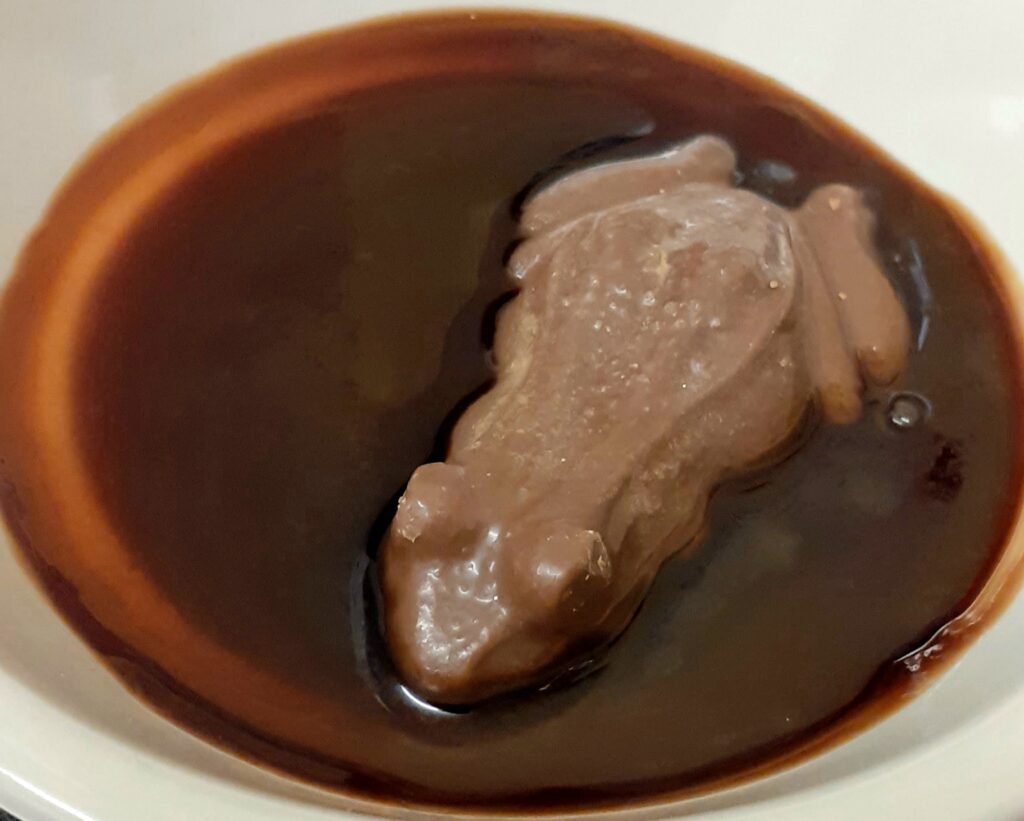 Dragon Mountain.
This is a mix of ripe fruit to me. Might not be this combo but this smells like a mix of peach and berries to my nose. It's delicious, mouth watering and sweet but not sickly. Strength wise I would say this is a medium. Longevity, this lasted 2 days before I felt it did need to be changed but a kitchen is a testing place for fragrance, especially if it's a more bakery or fruit based scent. Kitchens can have lots of varied cooking smells competing with each other.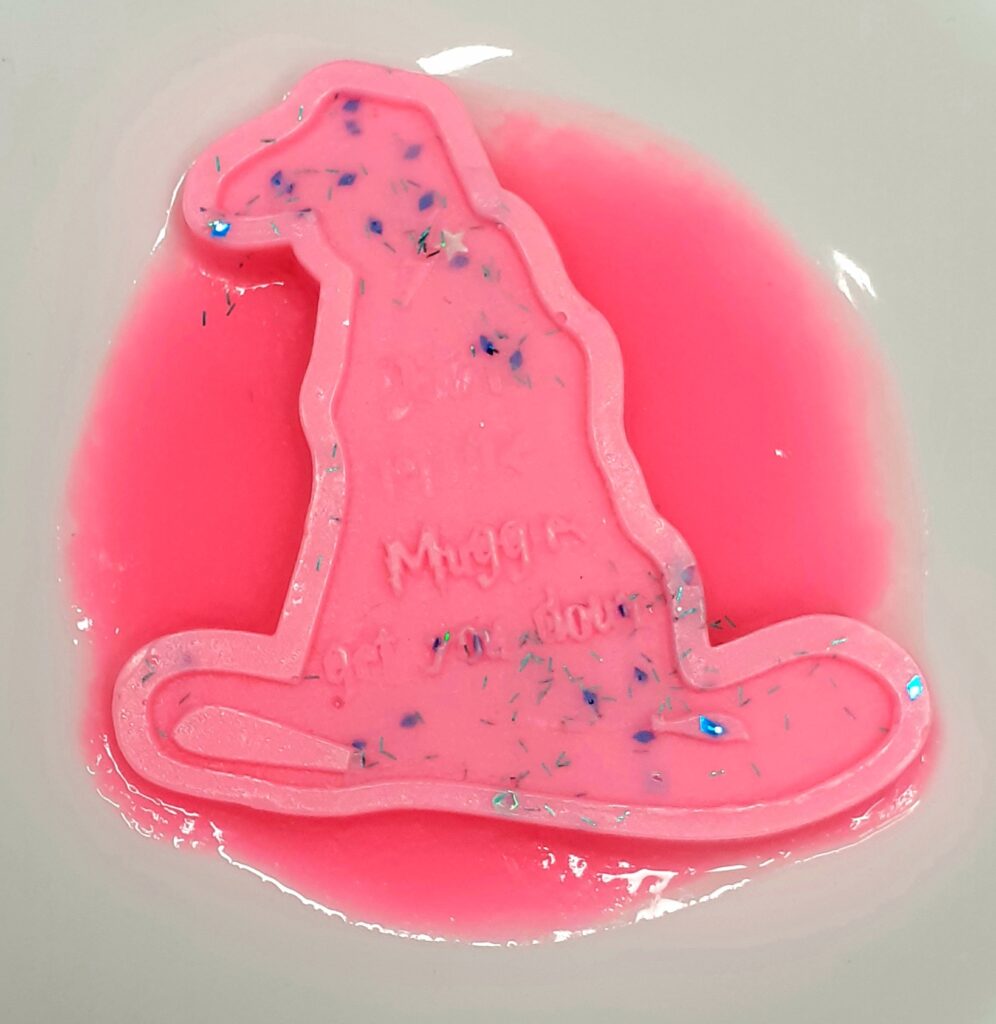 White Musk.
A powdery and clean scent. Very neutral and not too heavy in fragrance. I used one of the melts but found it was just too light in strength so threw in the second melt. This upped the scent more, and this was light to medium in strength. A lovely scent which was quite subtle. Longevity, over 2 days and then it needed to be changed.
Coconut & Apricot.
I can't say I've had any wax melts scented of apricot but this one was a delight and slightly misleading. Misleading in the fact that giving this piece of wax a sniff before melting smelt nice. But having this warmed through the wax melt smelt great. Scent wise for me the apricot was more dominant. Uplifting, juicy, sunshine filled apricot fragrance that would make anyone smile. The coconut was hidden beneath this giving it a slightly creamy base and helping it have a tropical hint to it, but it was super delicate. Strength was light. Longevity, again, 2 days, using both of the melts.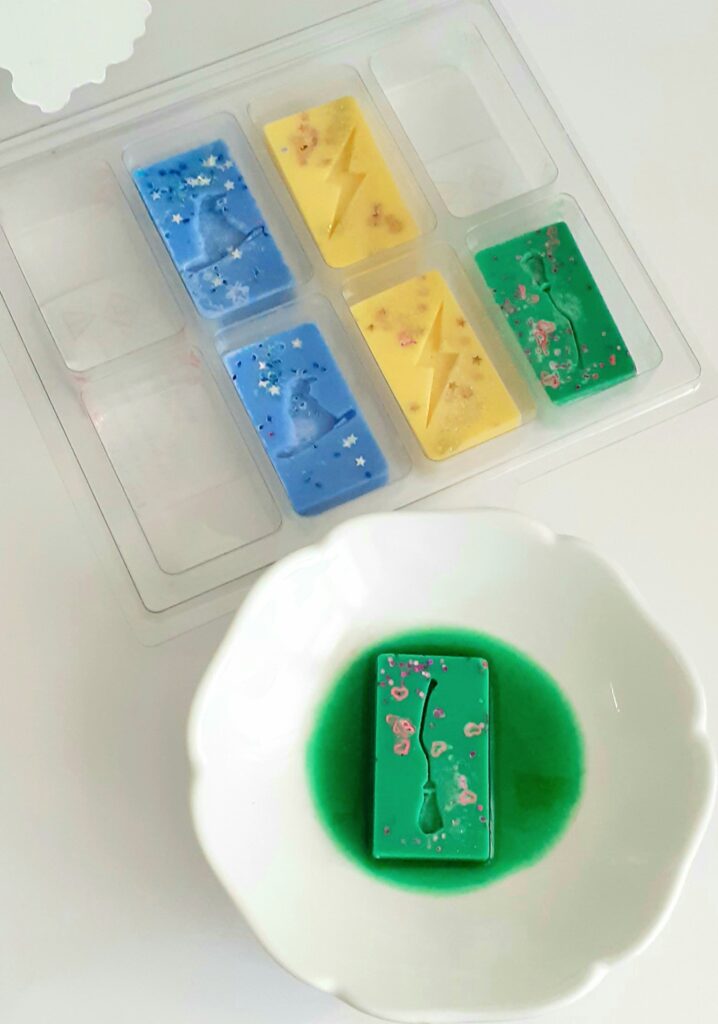 Baby Powder.
Most people are familiar with the scent of baby powder. This is clean, neutral, powdery and very easy on the nose. Similar to White Musk but much simple in my opinion. Some versions can be quite strong and heady, this is of medium strength so not overpowering. I had this melting for 2 days in my kitchen which helped odourise the smell of chaotic cooking. I used both wax melts at the time.
Magical Dreams.
A glorious wax melt that immediately made me think of the cordial Vimto in scent. Not as syrupy sweet as the drink, but this wax melt smells like it has a berry based element to it, sweetened with a soothing vanilla hit. Totally delicious! How this melted was so impressive. As it heated up, the cream coloured large heart shaped wax melt started to leak a stream of red, which slowly turned it into a soft red coloured pool of wax. Strength wise a medium. Longevity? Not sure, I'm still enjoying this one so can't comment on that.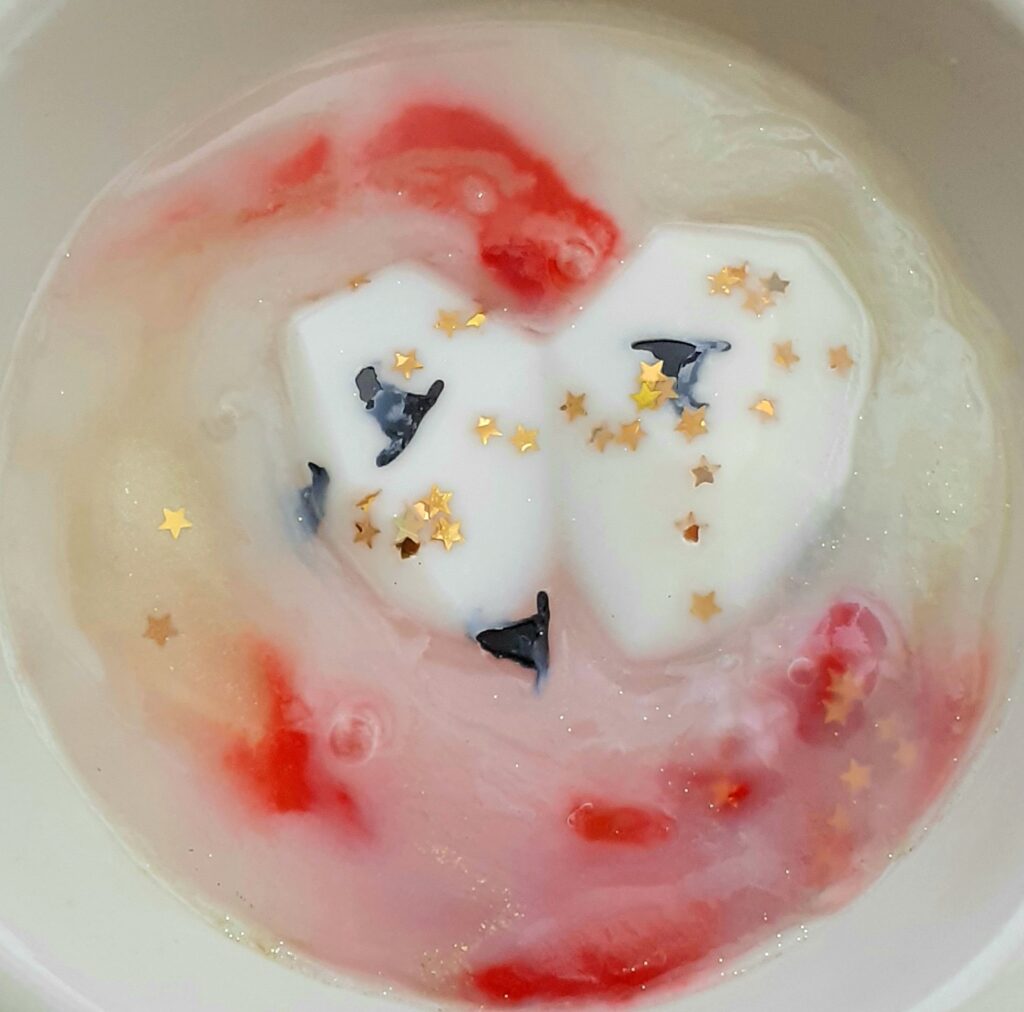 Seychelles.
This one smelt so tropical but not in an obvious way. I got a little creaminess from coconut in this wax melt, and vanilla. Even a possible touch of floral. If I'm honest not too sure what else was included, but if you like tropical scents but not too fruity and obvious, this could be for you. Strength wise I would say this was light. After adding the second wax melt to the mix and moving my wax warmer, it became more light to medium. Like most of the other waxes this got changed after day 2.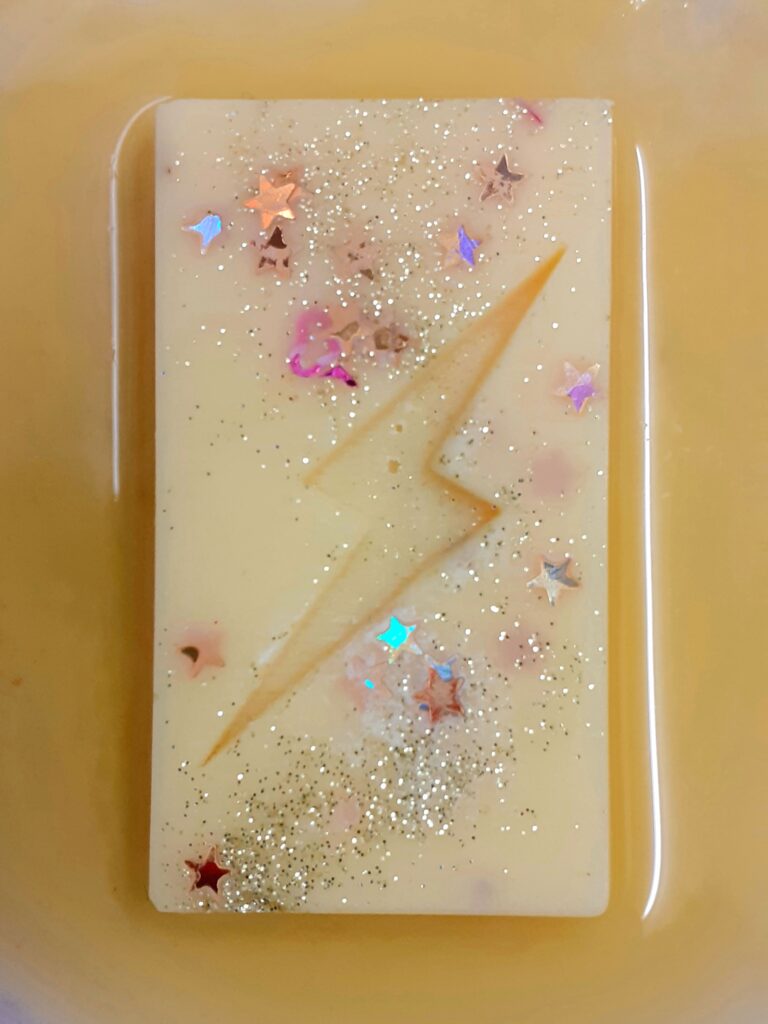 Overall thoughts.
This set if I remember correctly, was a themed wax box brought out in the month of July. So the scents included were perfect for Summer. A good mix of fragrances but all connected well with each other. Pieces were well made and thought out and looked great. A Harry Potter fan wouldn't be disappointed with this as it's definitely inspired by the brand. I liked all the scents. For me, a few could have been a bit stronger, but that's my personal preference. I got a good amount of hours out of all of these pieces which represented great value for money.
This set as far as I'm aware isn't available now as it was a one off themed box. But if this post has caught your attention, visit Fizzy Smelts to see what their latest themed box is and also check out other waxy goodies!