If you are someone who likes using home fragrance products, are their certain fragrance families that you really like? It's rare that if you burn a candle, or use a reed diffuser, that you aren't bothered about what type of scent it's giving off. We all have our own tastes because fragrance is a personal thing. There are a few I'm not too keen on, but thankfully many more I like. And I think this is why Amy at Fragrantasia, sent me the selection of wax melts and wax pots that she did. Included in this box of goodies was Sweet Heart Wax Chunks Pot.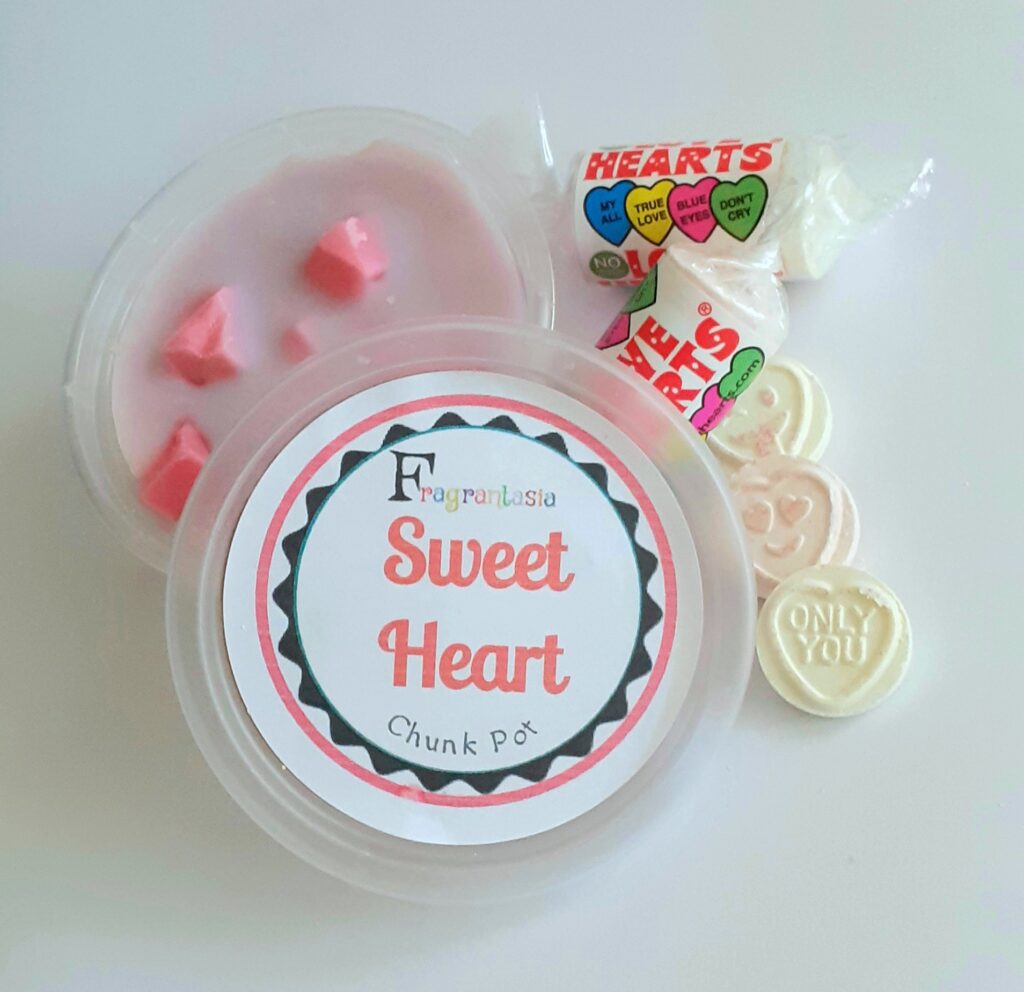 Why did I melt this?
Not only do I have a sweet tooth in regards to food, I also have a love of sweet scents. From it's name alone I assumed it would fall into this category and I hoped it would be based on a certain packet of sweets available in the UK. Only way to find out was to melt it so I did!
What's a wax chunk pot?
Some wax melts come in pots, so they are literally poured into them in liquid form and then left to set. A wax chunk pot is the same think BUT there are at least two elements to these. One being actual chunks of wax, which tend to be fragranced in one scent. And then on top of this is an overpour of wax which is in another fragrance. This giving it the name of a wax chunk pot.
The Look.
I am a sucker for a wax chunk pot! Never have a found one that wasn't appealing. In Sweet Heart, the main wax is a very soft shade of lilac. Plain, no glitter, totally smooth. What you see breaking out of the surface is decent sized mid pink coloured chunks of wax. There is nothing sparing about these shapes! This wax chunk pot is filled with them. Not only can you see a good amount creeping through the top, but looking at the bottom and the sides of the pot itself, you can see many more embedded into the wax.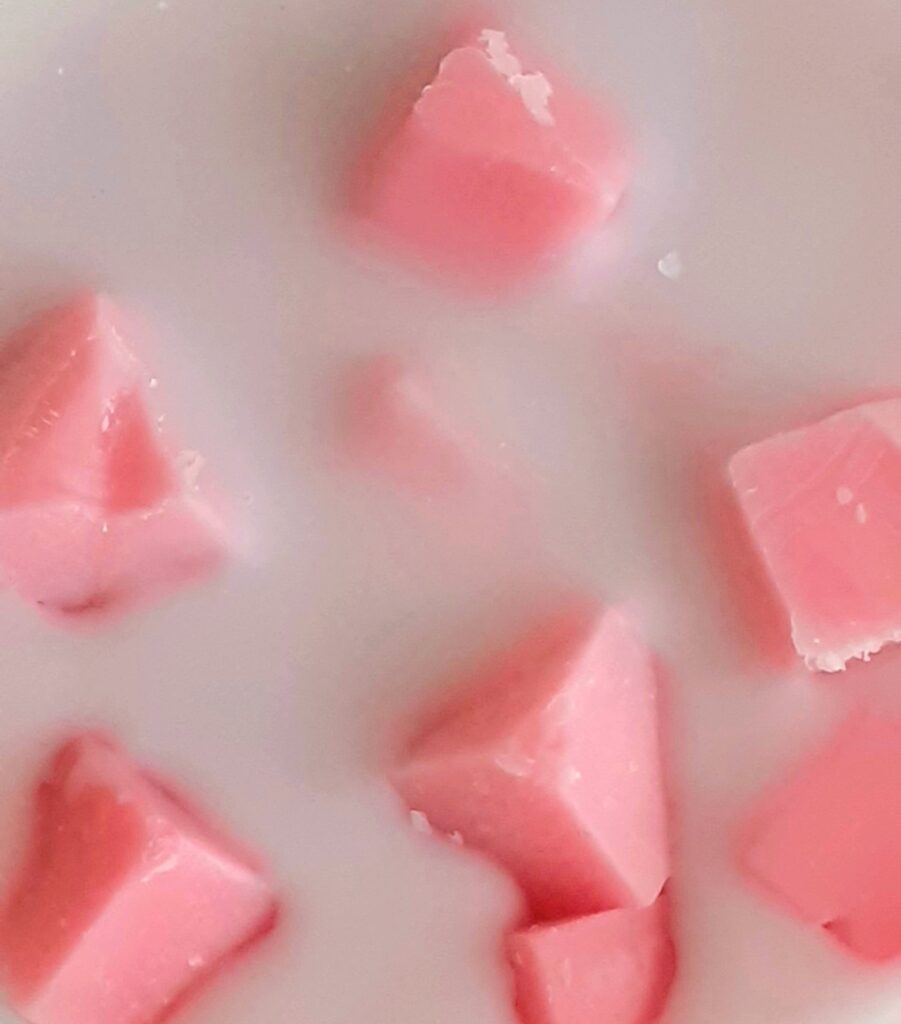 Fragrance.
I expected a similar scent to the sweets Love Hearts. What I got was something similar but with a twist and much better if I'm honest. I got the fizzy sweety like aspect of this. But then what struck me was the deep, dark scent of cherries. This made it have so much depth and gave it a massive hit of the fruities! Unusual, addictive, well balanced and fun to sniff!
In melt.
My favourite bit with a wax chunk pot! I used just under a third of this in 2 warmers (one in the kitchen on one day, the other in the living room a day later). This didn't melt evenly, which was what you want with this. Slowly, the wax melted, with the main wax going from a solid lilac to a liquid rich, red pink colour. And the chunks, which I think helped make the wax turn into this vibrant shade, was the last to go, almost swimming for it's life! Super pretty, fun to watch and while warming through released fragrance pretty much immediately.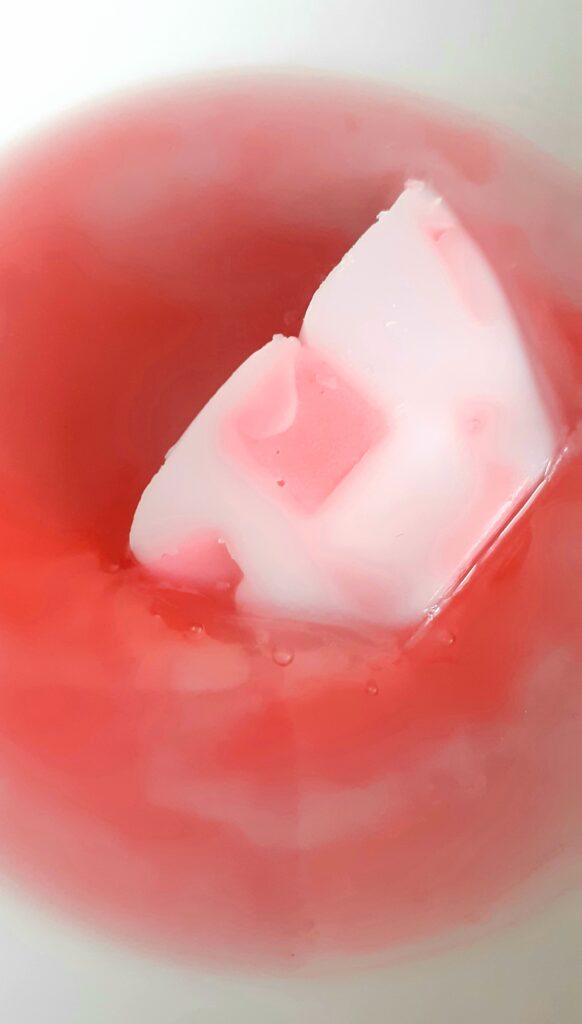 Strength & Longevity.
Strength is a medium. I found this was the same regardless of which room this was melting in or the warmer used. This was the ideal strength for this particular scent. Longevity was great as usual with wax from Fragrantasia. On the whole I tend to melt the same piece of wax for 2 to 3 days for hours at a time. I had this on for 2 days in 2 rooms for hours, and only changed it to mix up my fragrance, not because the scent had gone.
Recommended?
Lover of fruit and sweet inspired fragrances then yes you need this and it's totally recommended! I've melted ALOT of different fragranced wax over the years and some similar in scent to this one. BUT it's the cherry element that brings this out. It's a fun, enjoyable and such a yummy scent that doesn't go overboard in regards to strength or being sugary sweet. And with it being in a wax chunk pot it automatically is super pretty!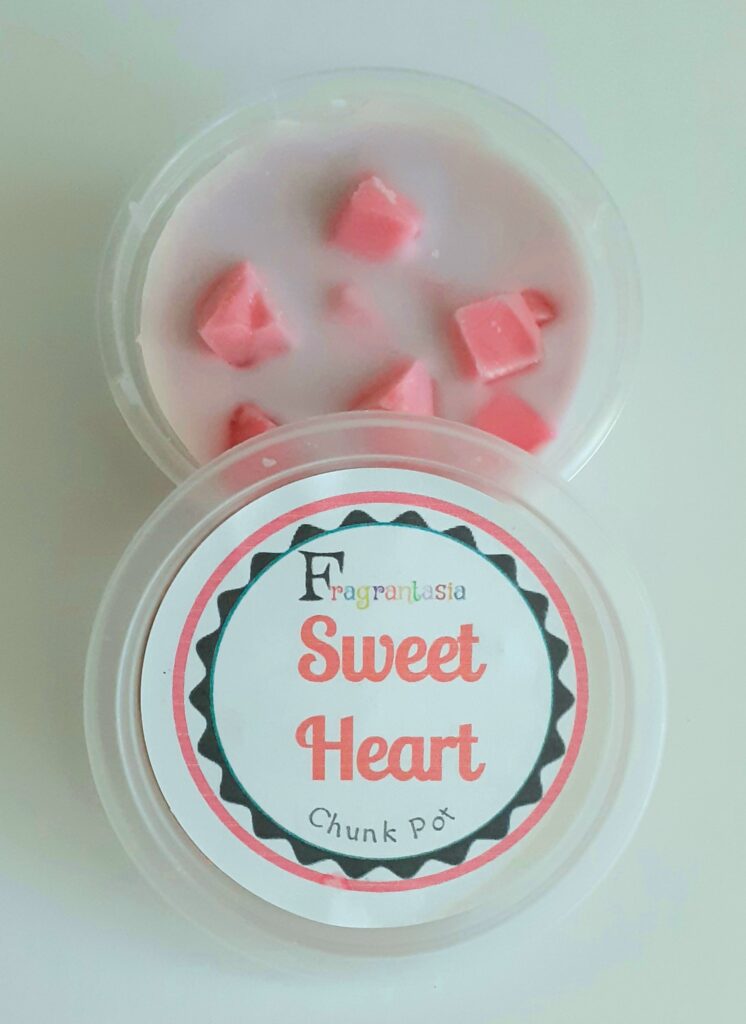 Sweet Hearts Wax Chunk Pot is £2.20. I think the pot is around 45/50g in weight, which will provide hours and hours of fragrance. If this is for you, head over to the website here to order. If this isn't ticking your fragrance boxes, there are plenty more to choose from. Happy shopping!