This may surprise some people but I haven't bought much wax this year, not compared to previous years anyway. I have way too much wax unused so buying more at the moment seems pretty silly. BUT there are a few occasions when logic doesn't and shouldn't kick in. Prime example is when I purchased Glow's Ruffles At The Palace August Wax Melt Subscription Box. Including postage, this cost £22.00.
Why did I buy this?
I've had wax in various forms before from UK based wax vendor Glow and the quality has been amazing. I was lucky to be gifted their October Subscription Box last year so I knew what to expect (to a degree!) with this one. Great shapes, vibrant colours and beautiful fragrances. Pieces inspired by Disney and Princesses I loved the idea of it so I thought it was a must to have this collection!
What's a Sub Box?
As hinted already, a Sub Box is a selection of wax products that Glow releases every month. Each month is themed differently, and this is reflected in the appearance of the wax, colours and also their fragrances. There is zero commitment to purchase one of these every month. In Glow's Facebook group they are highlighted with a release date. You put your name down and make a payment and that's it! When release date comes it's popped in the post for you to enjoy. Do you know what the best bit is? You know the theme but in regards to fragrances and appearance of wax, it's a mystery!
What was included?
5 different coloured and shaped wax pieces with a cute tea light holder.
Once Upon A Time – Yellow in colour with a subtle golden/orange shimmer to it. Flat and in the shape of the rose under the glass from the film Beauty and the Beast. A rose shape and the words 'When you are a Beast there is always Beauty close by' is visible on it.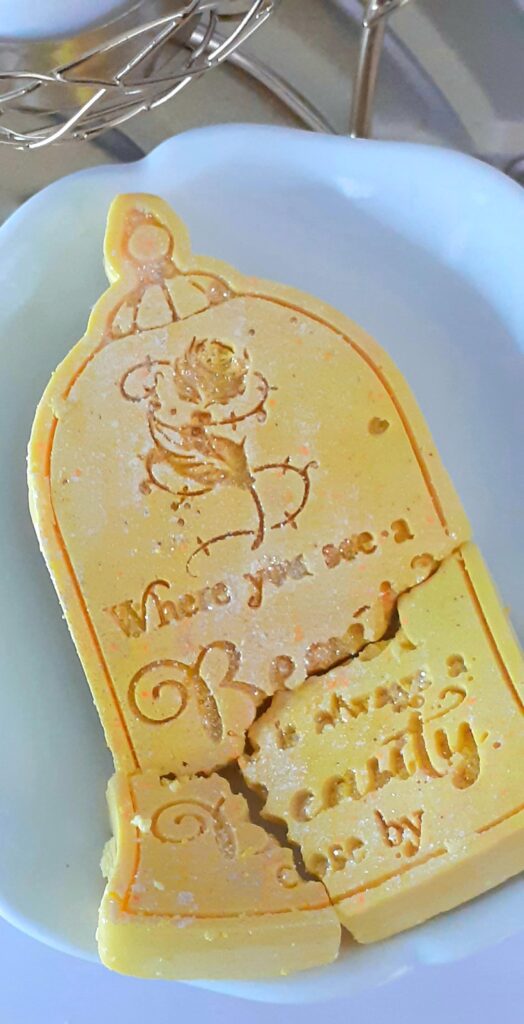 Tale As Old As Time – Rectangular in shape, flat and a lovely shade of purple with silver glitter over the top. The words 'You have to kiss a lot of frogs before finding your Prince' is on it.
Three Wishes – Again, another flat shaped piece of wax. This is shaped like an ornate mirror with the words 'who is the fairest of them all' in it and a shape of an apple underneath it. Red in colour and glistens with silver glitter.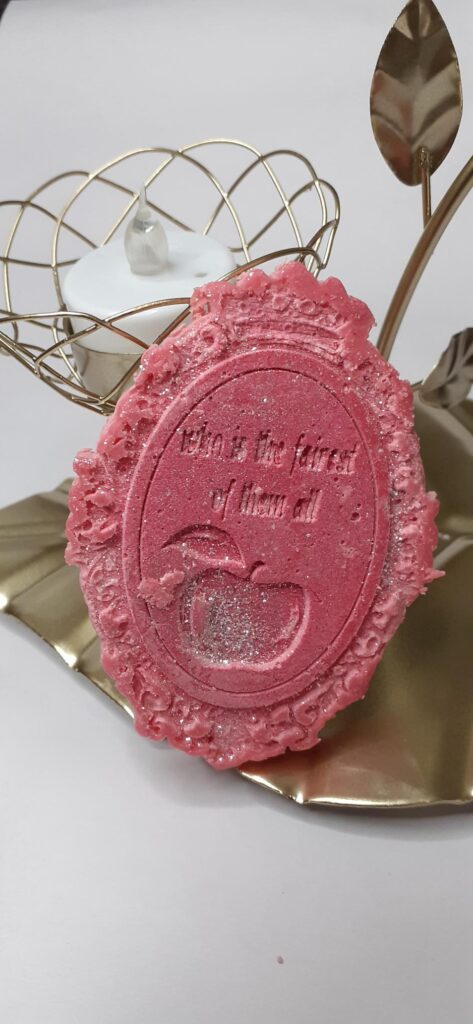 Enchanto – The only 3D wax shape in this sub and this is a chunky one! Shaped like a little mouse but light blue in colour.
Glass Slipper – Shaped as a Princess dress. Mint green in colour with a delicate dusting of silver glitter/pigment with the words 'Once Upon A Dream' in it.
Tealight holder – Metal, gold in colour with the base being a large leaf shape. Coming out of it is two small and thin branches. One holding up a small bowl section which houses a battery operated tealight. The other has a little bird perched on the end alongside another leaf but a small one. Super cute and I can't wait to find a place for this in my bedroom!
At first glance what do I think?
This is a well thought out collection. Each wax piece is a good size and should provide hours of fragrance, but they also look beautifully crafted too! It's easy enough to have themed wax, make it any shape and colour and give it a name but it all has to be connected. And these wax pieces definitely are! And that's what I love about this set. The tealight holder I think is a great addition and unexpected. When all the wax is used and gone to wax heaven, this will still remain which is a great gesture. I haven't mentioned fragrance yet because these haven't been melted and this will feature in another post. But cheeky sniffs of these are telling me these should be AMAZING!
I did want to mention one thing with this collection. The courier that delivered this months Sub boxes wasn't exactly careful with them and some of my pieces were broken. Has this spoilt my appreciation of this collection? No. Has it pushed my photographic skills to the maximum? Yes! I feel sad that Angela at Glow spent so much time making these and for them to be damaged. But these things to happen.
Recommended?
I've kept an eye on all the Sub boxes since I've been on Glow's Facebook group and I would recommend them all even without trying them out! They've all looked brilliant, well crafted with cute themes and I'm in no doubt of the quality and care put into these. Certain themes will resonate with certain people so it boils down to personal taste. But this one definitely hits my wax sweet spot!
Watch out for another post focusing on how these melt and smell. I'm excited about melting these!