I'm a bath addict. Spring, Summer, Autumn and Winter. Doesn't matter what the season is, the temperature, time of day, I WILL have a daily bath! After having a couple of days away with my children during this Summer, I had a meltdown when I realised my room only had a shower. Lesson learnt, book a room with a bath is a must! So as you can imagine bath products are definitely a love of mine and I like to try out different types and different brands. I've just spent some one and one time with Sunday Rain's Mango & Coconut Foaming Bubble Bar. I bought this from ASOS some time ago for less than £5.00.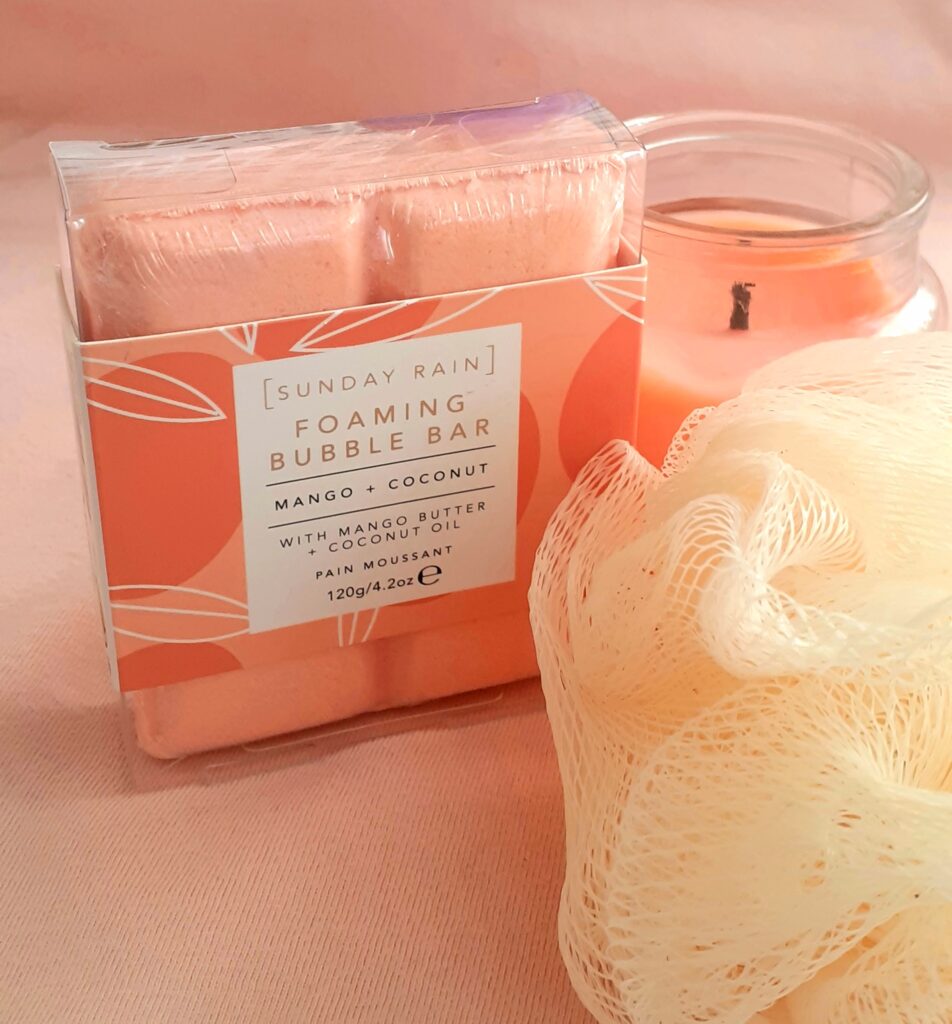 Why did buy use this?
I've used Sleep Easy Bath Bomb from this brand before and loved it. But bubble bars are one of my favourite bath products and I really wanted to see what this was like from Sunday Rain. The picture online looked appealing, mango and coconut as possible fragrances sounded nice and the price point was affordable.
What's a Bubble Bar?
Most bubble bars are similar to a bath bomb. But they tend to create foam and bubbles and are more moisturising on the skin because of the ingredients it contains e.g various oils and/or butters.
Packaging
Very simple. The bubble bar is shrink wrapped, and then housed in a plastic sleeve. Over this a cardboard sleeve which is placed around it and is similar colouring to the bubble bar itself. Nicely presented with the bubble bar well protected too.
How does it look?
Sunday Rain's Mango & Coconut Foaming Bubble Bar literally is a segmented bar made up of 8 pieces which you can snap off to use. It looks slightly chalky and solid like a bath bomb and is a beautiful shade of peach.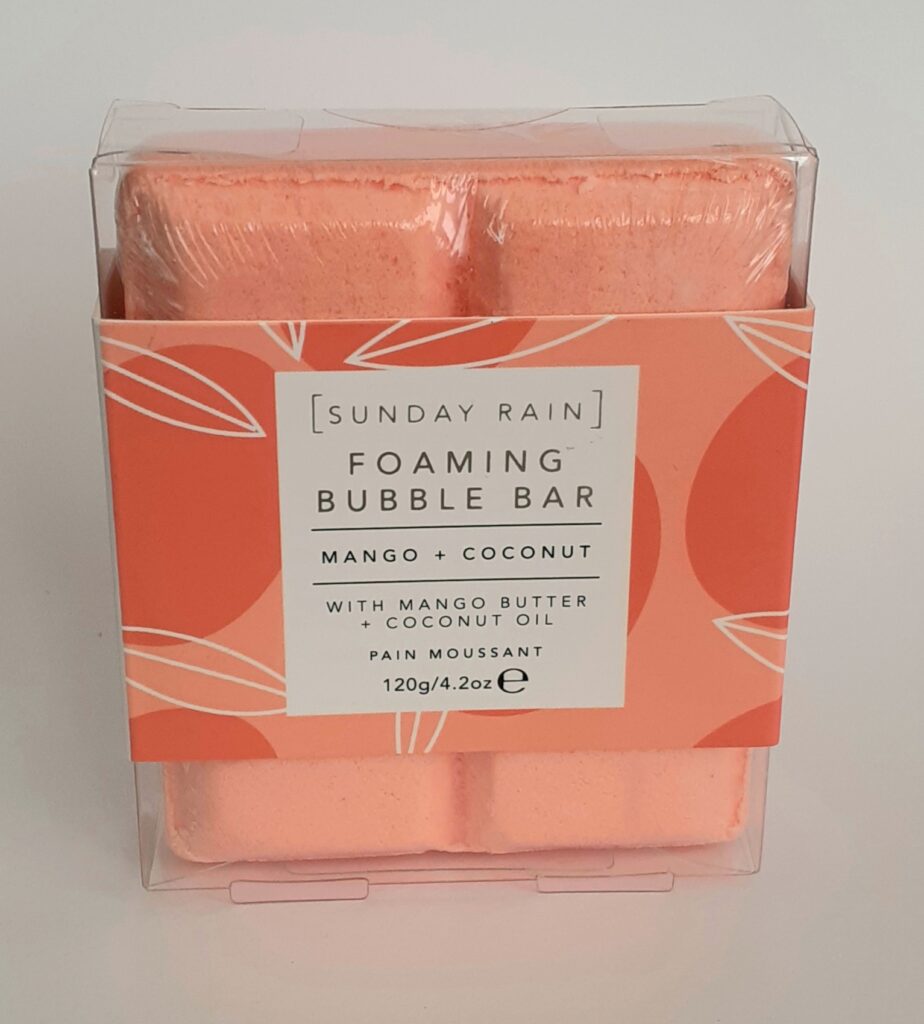 Fragrance
I'm not getting any coconut scent from this bubble bar, but there is a mango-esq hint to it. I wouldn't call it a true mango scent but more the type of smell you get from products wanting to smell like mango, if that makes sense? It's nice enough, not too sweet but not particularly wowing.
In the bath
I used two segments of the bubble bar in the bath. I thought this would be quite solid but it actually crumbled up under warm running water like a dream. Not chalky at all in texture and quite soft. As soon as it was hit by the water it created lots of bubbles. Soft, airy, white, fluffy, a lot more than what I was expecting. The water itself stayed clear and wasn't coloured, but the bubbles still made this a very inviting bath. There was no bubble bar pieces left on the bottom of the bath so totally dissolved.
Fragrance wise? I didn't get much to be honest. I got a little hint of mango but it smelt a touch on the synthetic side but was so light it didn't make much of a difference.
Being in this bath it was pleasant, relaxing, no more or no less than other bath products I've used. What I did notice was touching the bubbles in between my fingers, they felt very moisturising. This made me rub them all over my body and it felt good! My skin after this bath wasn't dried out and very normal in feel, but would have liked more indulgence and moisturising from this bubble bar.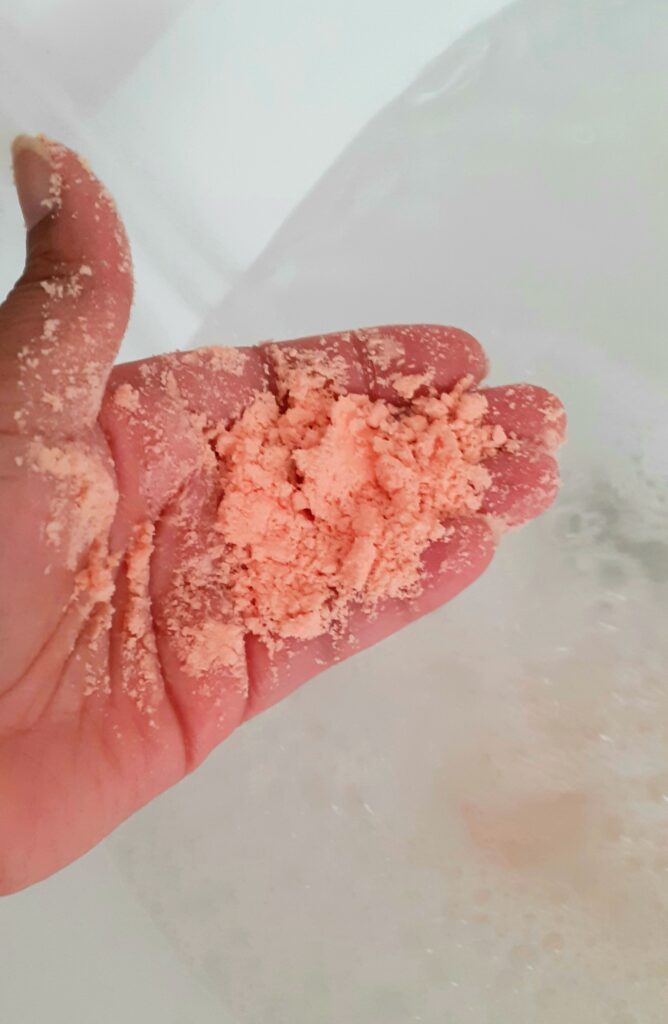 Recommended?
Sunday Rain's Foaming Mango & Coconut Foaming Bubble Bar definitely delivered on a few things. It foamed, and created a good amount of bubbles in the bath. There is zero need to use the whole thing so someone could get a maximum of 4 baths out of this easily. Quick and easy to crumble up and presented nicely. What would have made this better would have been more fragrance and more moisturising, then this would have been perfection! For what it is and does I would still recommend it if available at the right price. This is available on Amazon for £12.99 which is ridiculous! It's worth buying if under the £5.00/4.00 mark but availability is hard to come by online, so maybe difficult to purchase cheaper.