I don't think there are many people who would disagree with this comment, but smelling good is important. It's like adding icing on top of a cake, it just finishes off a person. Fragrance of any sort whether its on myself, in my home or car, really helps my mood and how I generally feel. So it should come as no surprise that I have one or ten body mists floating around my bathroom, which I pick and use depending on what I want to smell like. One on my current rotation is Miss So?'s Midnight Magic Perfume Mist in Oriental Vanilla & Praline scent. Bought from Superdrug for £2.98 ( usually price £5.99 ).
Why this one? I buy body mists regularly because they are a lot cheaper than actual perfumes. I can use them as little or often as I like without worrying about the cost of replacing them. This one I opted for because I had never tried this mist and this particular fragrance. It was on sale at half price, and with the fragrance containing my loved vanilla I thought I would naturally like it.
Packaging. Very cute. Not much different from a body spray in regards to the bottle and how its housed e,g shape and lid. Bottle is soft pink in colour. The brand and fragrance name simply put in black and white which gives it a clean, stylish and modern feel to it with relevant details/information on the back.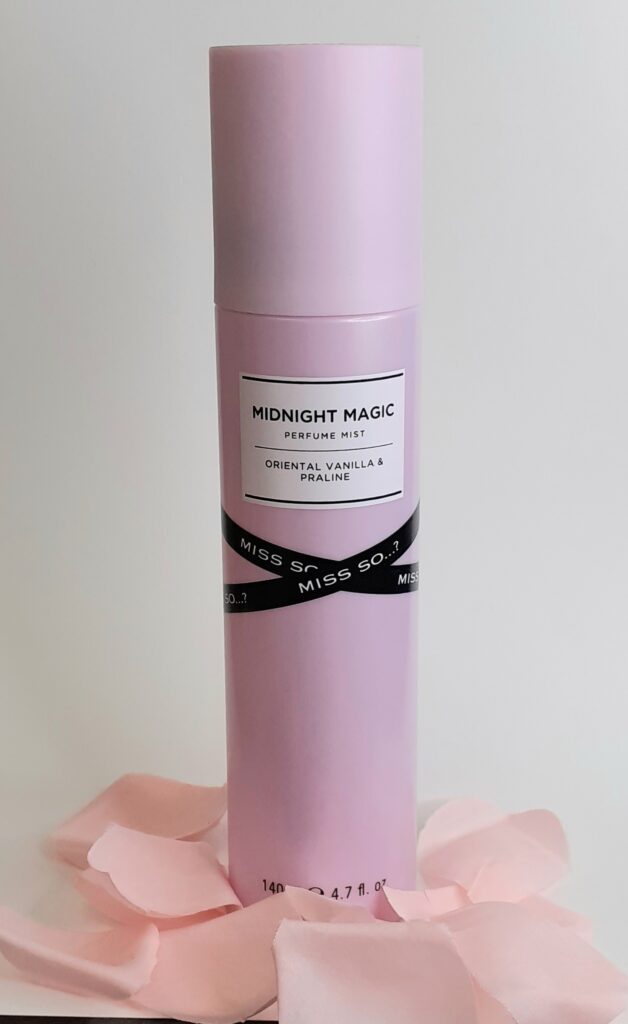 Scent. This is made for me! It has that familiar vanilla smell to it. A little sweet, creamy, almost bakery like. There's also a hit of what I can only describe as toffee or fudge like in scent, but its not massively obvious but there. And the tiniest splash of floral finishes it off. Not too sweet but great for those who love sweet scented fragrances.
Strength & longevity. Strength was light. I could smell it as I applied it and when I sprayed it over myself e.g clothes. But I never found it to be that strong I could just give myself a little spritz and off I went. To get the desired strength I would spray ALOT of this on myself. Longevity could have been better too. I didn't really notice the smell throughout the day. If it was there it was very very light. If I had the time while at work I would reapply this but I never do. So strength and longevity for me could be improved on and a little disappointing.
Recommended? I liked the scent of this and the price when on offer was good value. But I needed this to be punchier and linger more. Now, I take on board the fact this is a body mist and not a perfume so I never expected too much. But I've had products like this before and they've been stronger, so for me I wouldn't buy this particular one again. BUT I would happily try this in another version such as the Eau Fraiche or something from a different fragrance family to see if that makes a difference.
I wouldn't recommend this to someone who wants a strong, long lasting scent. But for a bakery lover fragrance wise wanting something light and not heavy, this might right up your street! Still on a half price deal at £2.98 ( at time of writing this post ), you can visit your Superdrug or order online here for your sweet scented treat.