Cleansing the skin is an important stage. You're prepping the skin for the next steps in your skincare routine, and making sure your face is a blank canvas for your serums, oils, moisturisers etc. But there are so many on the market it's hard to chose which one will be right for you, well it is for me! A lot of the time we just have to buy them, try them and see which is the right fit for our skin. I made a purchase late last year from a brand called Q+A. I bought various skincare products, including their Peppermint Daily Cleanser. £7.50 for 125ml, but I got this during a 20% off sale so paid £6.00.
Why did I buy this?
I've wanted to try this brand for ages and the fact they had a sale on made it so much easier and cost effective to buy almost a full skincare routine. This cleanser I originally bought with my son in mind as I opted for their cleansing balm for myself. But I couldn't help try this out because of how quick and easy a foaming cleanser is to use. Plus, it looked and sounded so interesting so I 'borrowed' it!
What is this supposed to do?
Peppermint Daily Cleanser is designed to clean the skin, refresh and energise it and to be used morning and night. This cleanser is supposed to help with calming the skin, skin firmness and hydration.
Who is this for?
Skin type wise this is suitable for oily, stressed, dry, sensitive, normal and combination skin. So that's pretty much all skin types.
My skin type
There should be a category called Hot Mess because that's what it is right now! Not too sure what's going on with it but it seems to be a bit of everything at the moment except for sensitive and oily.
Packaging
This cleanser is in a typical tube with a flip top lid. It's mainly mint green in colour and white, with black text. It's clean in appearance, it's simple, effective and easy on the eye. The way it looks could appeal to anyone regardless of age or sex. The thing that stands out about the packaging is on the back there is a skincare check list. It tells you what skin type this product is for and what concerns this will treat. This makes the search so much easier when it comes to deciding if this is right for your skin or not.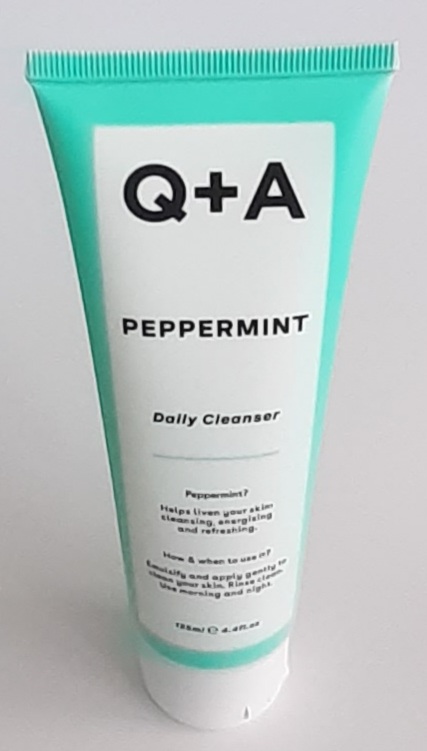 Texture
This is like a lot of cleansers that foam texture wise. It's gel like, fluid but with a slight thickness to it and totally clear and has no colour.
Fragrance
Love this! It should be no surprise that this smells of peppermint! So fresh, minty, very invigorating. But it's not overpowering and gives you the hit of mint you want without it being eye watering.
How to use
Mix in with water and apply to clean skin and rinse off. Use morning and night.
In use
I've used this in the morning while in the shower, and in the bath in the evening. Mixing it with warm water it lathered up but it wasn't too frothy. It had a slight creaminess to it which was a lovely texture. It went onto my skin easily, I enjoyed how it felt and the fragrance was uplifting and nice to smell. Easy to rinse off, didn't sting my eyes and removed the only bit of make-up I wear, which is an eyebrow pencil. Skin felt clean and quite fresh.
My skin after use
So this is where my initial joy of this product went slightly down. I looked at my skin after using this and noticed my face looked quite dry. It didn't feel overly dry but definitely looked it. It was if moisture had been zapped out of it and I could see a dry, white look to some areas of my face. Bare in mind my skin colouring is brown, this made it quite obvious. I had hoped that this would only happen for the first few times of using this and then my skin would adjust, but I didn't see this change with nearly 3 weeks of using morning and night.
On my son
As mentioned, I bought this really for my son. He's 12 years old, slightly spotty but nothing major, and probably combination skin in regards to his skin type at the moment. He hates washing his face, but using this is quick and effective AND doesn't strip his skin at all. His face doesn't look dry after use and this cleanser seems better suited to him than to me. He moans about the fragrance but to be honest he would moan regardless, and I think this was more agreeable to him compared to other scented cleansers I've forced him to use.
It's not all bad, there's been a discovery!
I couldn't keep using this cleanser. The weather in the UK is getting colder, my central heating is never turned off so there are so many things trying to suck the moisture out of my skin already. I didn't need my cleanser to be one of them. So I've been using a balm cleanser to make sure my skin wasn't being stripped at the cleansing stage. But to make sure it's all removed, I've used this Peppermint Daily Cleanser AFTER the balm which has given me an unplanned double cleansing routine that works well. I haven't suffered the dry, white areas on my face that was visible before while using this combination. And this could be a good duo to remove sunscreen off my face now that I'm going to use some form of sun protection everyday.
Recommended?
I actually think this is a good cleanser. It's not expensive, it's a decent size which should last for a few months, fab fragrance and easy and quick to use. It does what it needs to do which is clean the skin. But I suspect a face wash type cleanser or at least this one, just isn't right for me (on it's own). So my initial idea of buying this for my son and not for my face was spot on! But I would try this during the Summer months as I have a feeling this would be more suitable for my skin.
I would still recommend this despite this not being ideal for me. It might be a winner for teenagers, people in their twenties who don't have massive skin issues and are happy to use a face wash type cleanser. People who normally use foaming washes but want something that smells fresh and zingy and I suspect this is could be a great for more combination to oily skin. I can see lots of the guys liking this too because there's no fuss using this, it has a clean smell to it and the packaging is neutral but modern.
Great thing with this cleanser is it's available in so many places, including Amazon*, direct from Q+A, Holland & Barratt and many more if you want to try this out. If a face wash type cleanser works for you and you're on the look out for a new one, why not give this a go?
*This post contains affiliate links. If you make a purchase I receive a small commission with no cost to yourself.