When I was growing up, home fragrance came in the form of an open window and a bottle of Zoflora. That was how my dad operated. Bless you Mr Griffiths! These days it's expanded and a bit more elaborate than that. Brands such as Zoflora and Fabulosa are pretty big, combining cleaning with fragrances. Candles are still very popular. Reed diffusers seem to be available all over the place and wax melts are going from strength to strength. Wax melts probably are still my favourite way to fragrance my home. I will use these multiple times in a week mainly in two rooms. This week I decided to use Fragrantasia's Sweet Snow & Cherries Wax Chunk Pot from my open box. This cost £2.40 for one pot.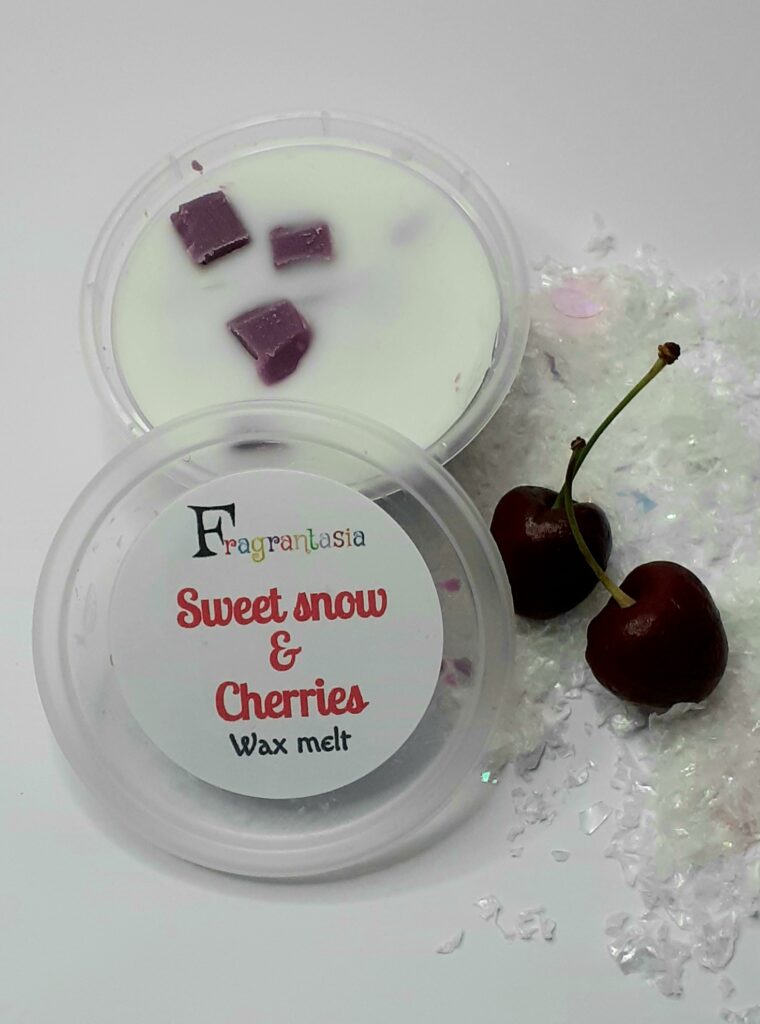 Why did I buy this?
Firstly, I LOVE wax chunk pots! They look great, they cleverly incorporate two different scents that creates one new fragrance which is imaginative. These are one of my favourite wax forms if you haven't already guessed. This scent I went for because it was new to me at the time of purchase, it sounded quite fruity (which I love) and I just had a feeling I would love it!
How does it look?
Off white coloured wax with irregularly aubergine purple pieces of wax embedded into it. Not only can you see these physically breaking through the surface of the top of this wax chunk pot, but if you look round the sides and bottom of the pot this sits in you can see it's FULL of these chunks! These two different colours of wax are two different fragrances. It's not a complicated or an arty looking piece of wax, but there's something so pleasing to the eye about how this looks.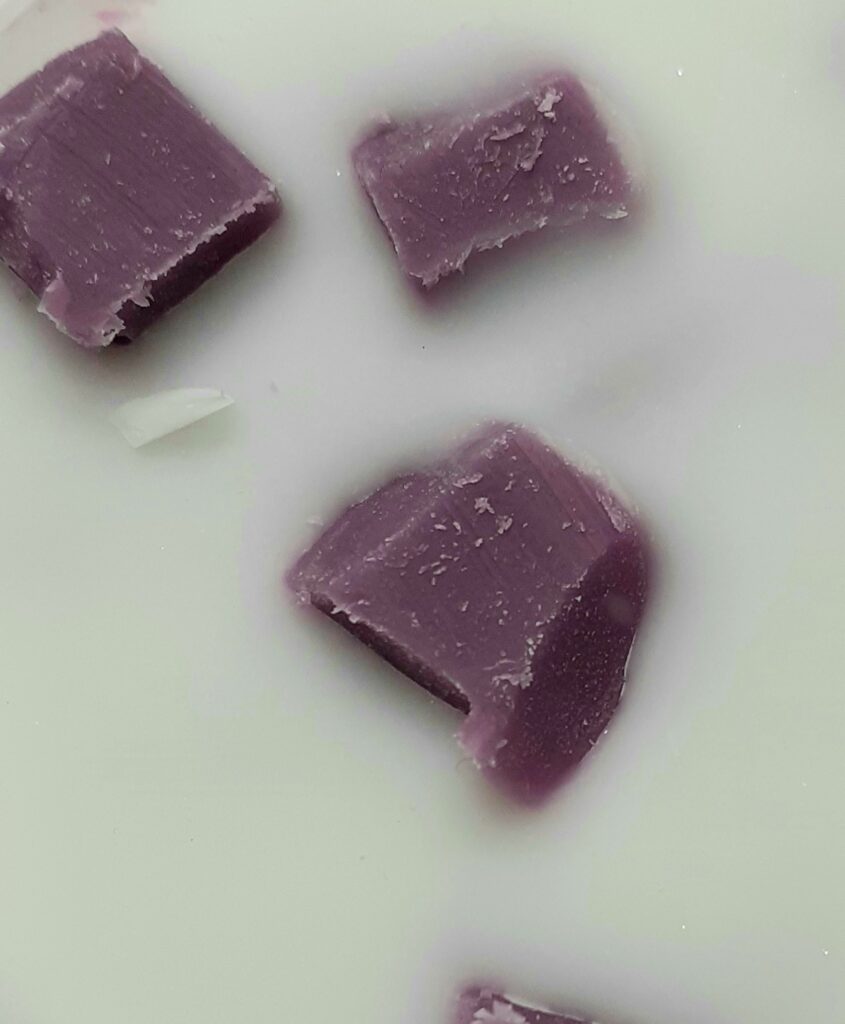 Fragrance
This maybe simple in name but it explains what this fragrance consists of perfectly! You get a fruity, dark cherry scent. There's a little tartness to it so not too sweet. Mixed in with this, is a scent inspired by a well known bath bomb shop and one of it's product fragrances (hint, LUSH's Snow Fairy). This scent is sweet, almost candy sweet. Think candy floss, even bubble gum and fruit flavoured sweeties. What I like about this is it's not over the top, it's not so sugar based it makes you feel queasy or comes across synthetic. Perfectly balanced and lip lickingly good!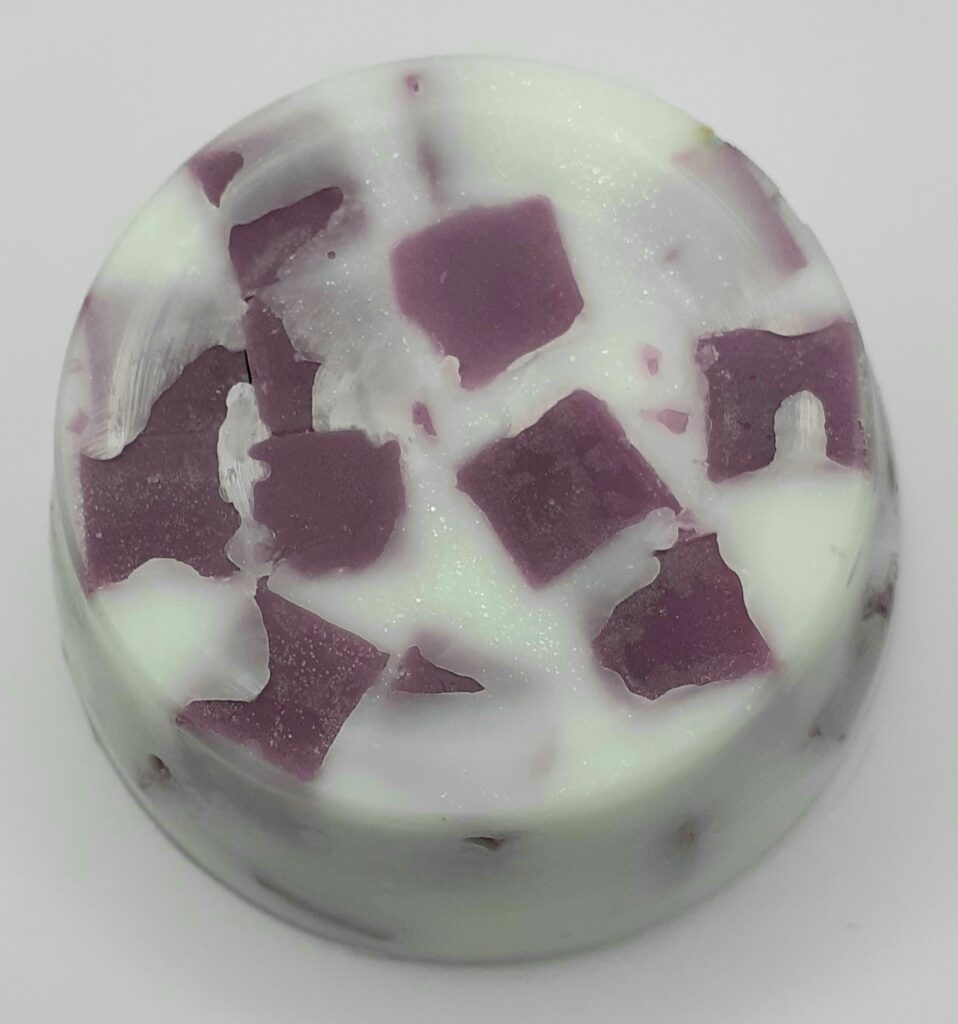 In Melt
I used a quarter of this and popped it into the wax warmer that lives happily in my kitchen. One thing I didn't realise with this wax chunk was there is a slight shimmer to it. This was only revealed once the piece of wax warmed through and slowly became liquid, that my eyes were met with a delicate and very pretty sparkle. What was left once totally liquid, was a beautiful deep shimmering shade of purple.
It didn't take too long to find that not only was my kitchen filled with the scent of Sweet Snow & Cherries but also my living room, which is next door to the kitchen.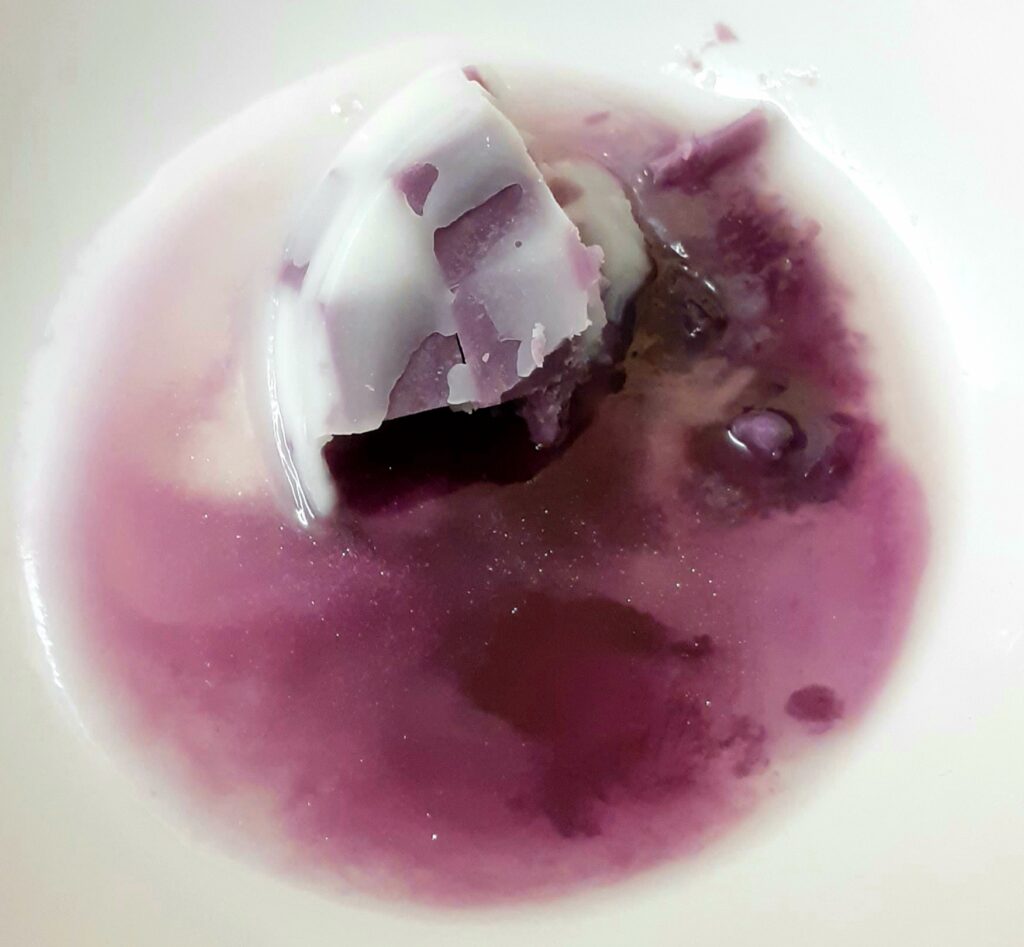 Strength & Longevity
Strength wise this is medium to strong. It's powerful but in the sense of the fragrance is there, it stands out and it travels outside of the room it was melting in. Like many wax pieces I use, I had this on for 2 days (at least 4 hours at a time) and it maintained it's strength and quality throughout.
Recommended?
I love this scent! It's a combination of two different fragrances that are delightful on their own but are amazing together and I adore it! Although this was part of a Winter inspired range of wax last year, I could happily melt this any season as it's beautiful. So of course this is recommended! If you like your fruity and sweety like fragrances this will be a winner in your home. And the size and weight of this wax chunk pot (roughly 45-50g) will provide hours and hours of fragrance to enjoy.
At a glance I saw only 1 of these left in stock! So if this is right up your wax melt fragrance street quickly grab it here now.