I don't need to mention how much I love my wax melts. If you take a look at this blog my obsession with them is pretty clear. I do tend to stick to small wax vendors when I buy my wax because they are affordable, imaginative with fragrances, designs and shapes. But I am open minded towards the bigger wax companies too. One well known company for wax which I've always wanted to try but never have (up until now) has been Scentsy. Although I made my purchase with them months ago I've only just found time to try their Disney The Last Petal Wax Bar. At the time of purchase this was £8.00 but bought during a flash sale at a cost of less than £3.00 for 74g.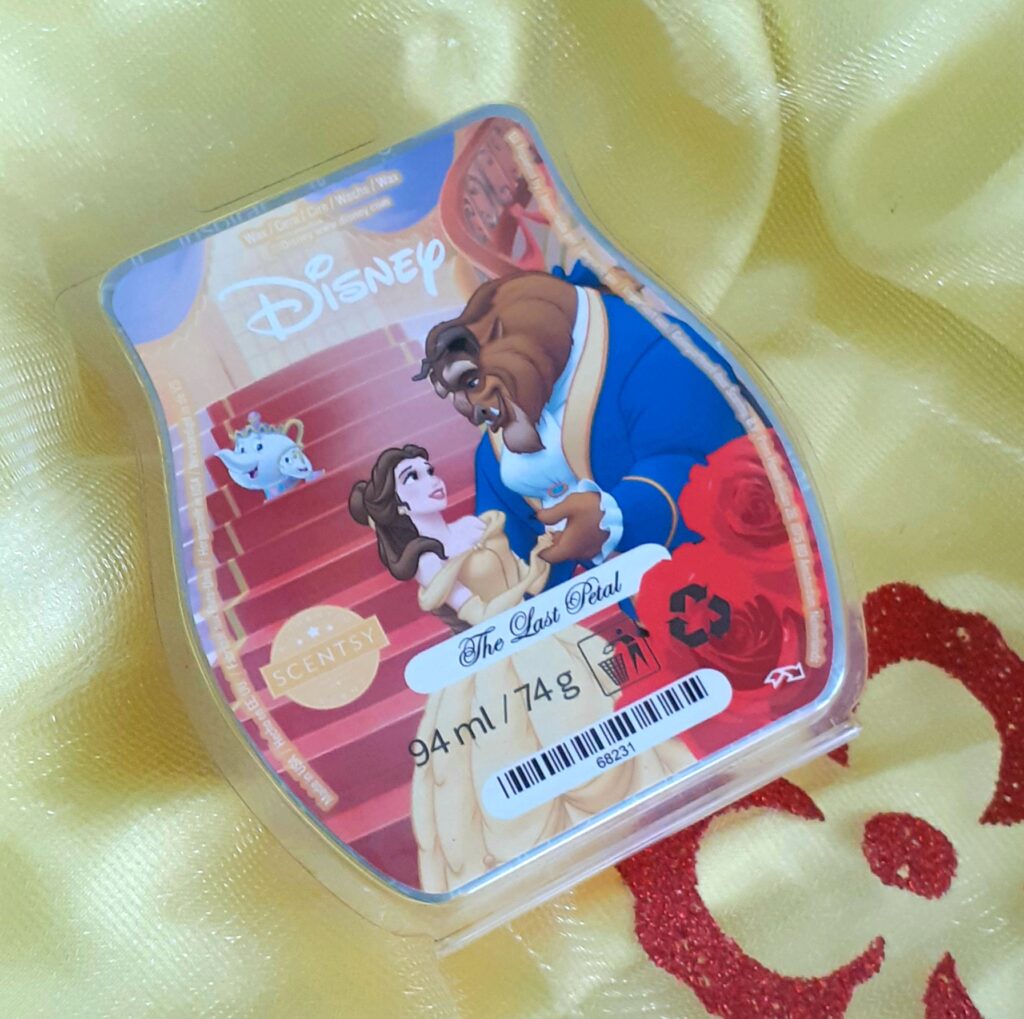 Why did I order this?
Scentsy's flash sale! THAT'S what made me order! I've been curious about their wax but honestly it was out of my price range and this sale made it affordable. I loved how The Last Petal was an official collaboration with Disney. The packaging looked gift giving worthy and I hoped it would have a nice fragrance to it after reading the scent description.
Packaging
74g of wax is housed in a plastic, flat flip topped lidded container. It's an interesting shape (see below picture) and probably iconic with this brand. The wax is also foiled sealed at the opening which I like and gives added protection. But the thing that is striking about this is the label. A perfect illustration of the cartoon characters of Belle and The Beast which feels as if it's been lifted straight from the animated film gives it the cute factor.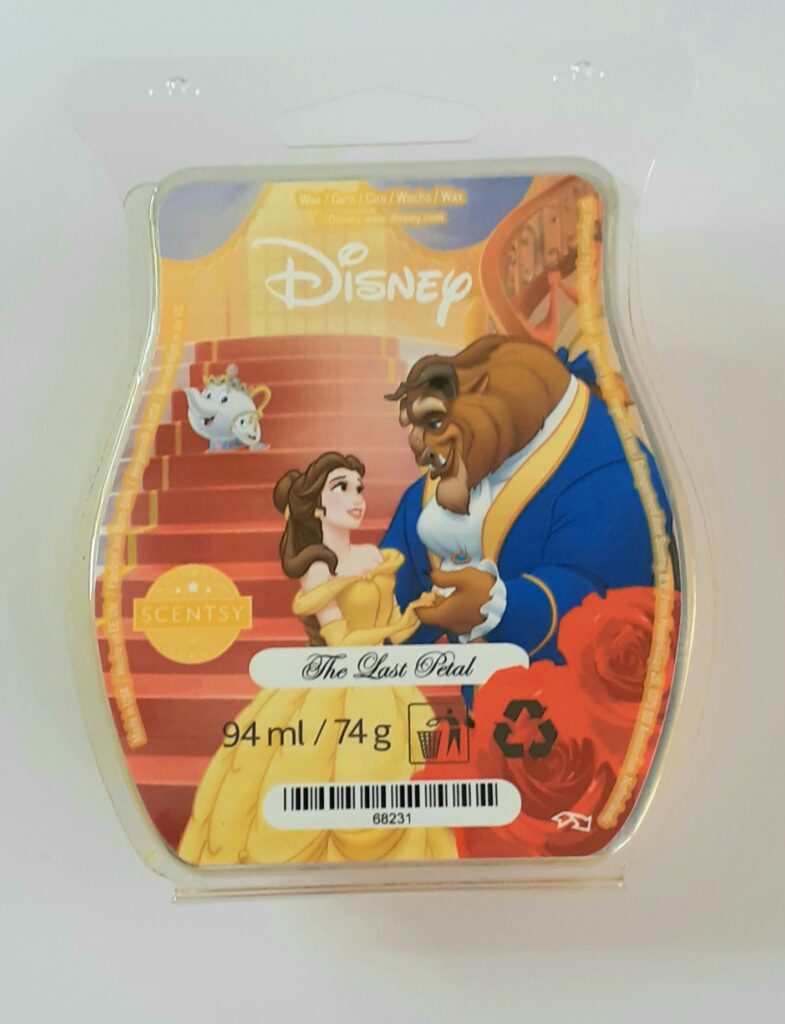 The Wax
The wax is yellow in colour, which matches perfectly with the idea of Belle. It's segmented with each section having a small embossing on it's bottom e.g a strawberry shape. It's very basic in appearance.
Fragrance
Fruity! I get berries with this one, a little citrus, quite tropical in fact. This makes me think of fruity flavoured chews/sweets because of it's fruit combination and sweetness. It's a lovely scent. But would I think of this Disney film and imagine this type of fragrance? No.
Strength & Longevity
I used two segments of this wax in the wax warmer in my kitchen. It melted quickly (as you can imagine with how warm it is right now!) and it filled the room well. Strength wise I would say this was light to medium. This was a great scent to neutralise the usual kitchen smells. Normally I would melt wax over a few days for a few hours at a time, but it's just been too hot! But for the few hours this has been on it's been consistent in smell and strength.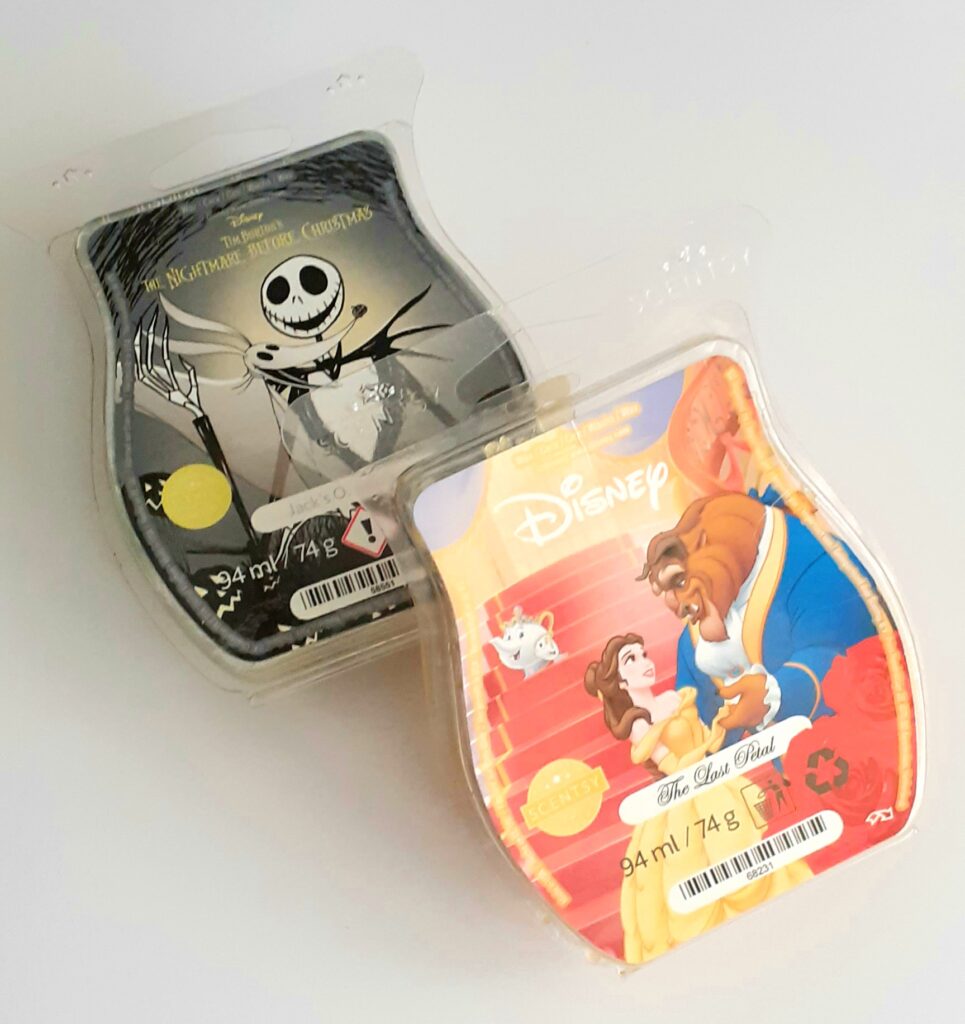 Recommended?
This wax was fine. The Disney connection and how it's presented I loved and it smelt nice. But I can't help but feel this scent is similar to ones I've experienced before so doesn't stand out for me and overall was nothing special. Personally I would have liked the fragrance to have been a little stronger and for the scent to reflect the packaging more. And let's talk about price. If this wax was full price it's quite expensive for the amount you get, regardless of how it's packaged. Under £4/5.00 is much more comparable to others on the wax market and affordable. So you are paying for the brand of Scentsy.
Recommended? I haven't tried other scents yet from Scentsy. This was fragranced well but didn't wow me. I would recommend to buy this or any other wax bars only under particular circumstances. Wait for a flash sale and don't pay full price. Read the scent descriptions of the different waxes and try and go for something different, unusual that you might not get from anywhere else and of course, what scents you like! These do make great gifts look wise, so I would be heading towards specific brands such as Harry Potter, Disney or Marvel to purchase for people who love those brands and wax. But only at the right price.