Wax melts are very popular. They have been for a good number of years now, which I can't see disappearing anytime soon. Why are they so popular? They provide fragrance for the home, they tend to be affordable and come in a variety of shapes, colours and scents. Some you can grab from the high street or local shop, others available online. Most of my waxy purchases are bought from businesses who hand make and sell their own wax melts. One wax vendor which I have been lucky enough to be sent samples of different wax melts from is Secret Scents Home Fragrance. I loved them so much I bought my own, including Sage & Sea Salt Wax Clam Shell.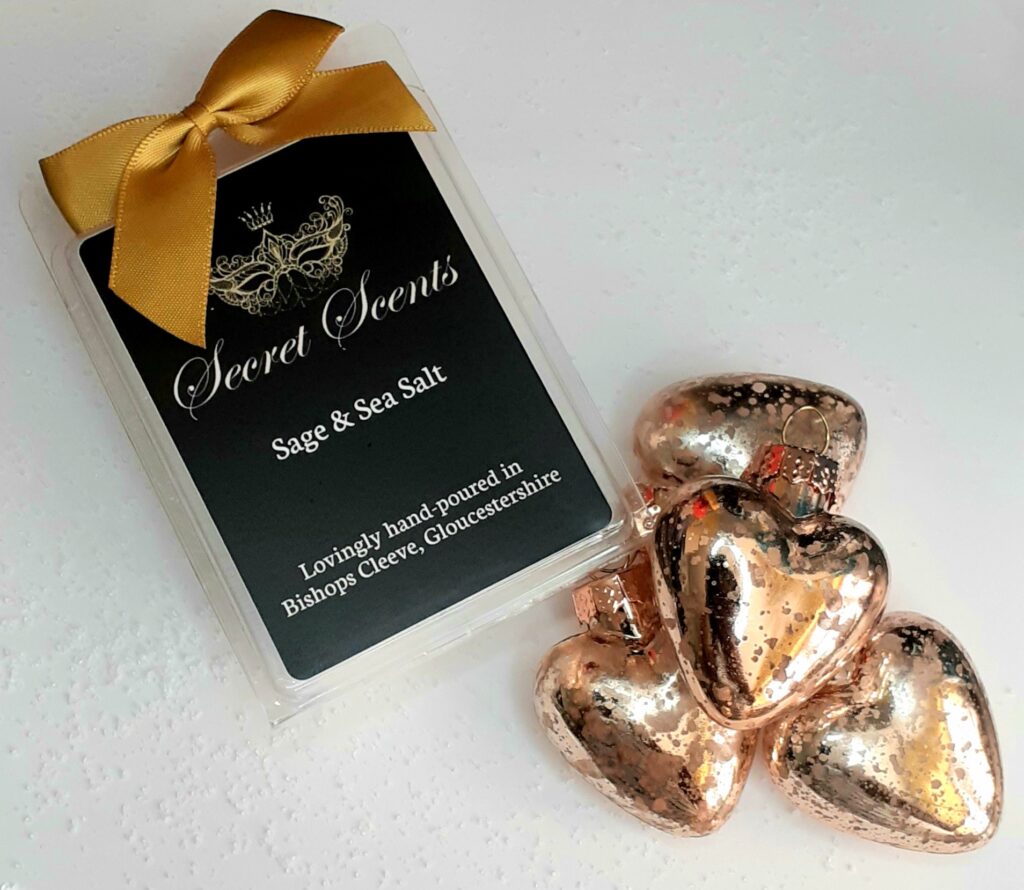 Why did I buy this one?
My scent choices tend to be very predictable. This one I actually chose as a gift for someone but cheekily kept it for myself (don't tell, shush!). Total opposite to what I would normally go for, but I do like clean scents and thought this could fall into that category.
Packaging.
This wax is housed in a plastic container. Lidded, but one piece so top and bottom is connected. Clear, and from the bottom you can see the wax and it's shaped the same as the underside of the container. Labelling is black and gold which gives this an elegant look. Finished off with a matching gold bow on the lid. Perfection!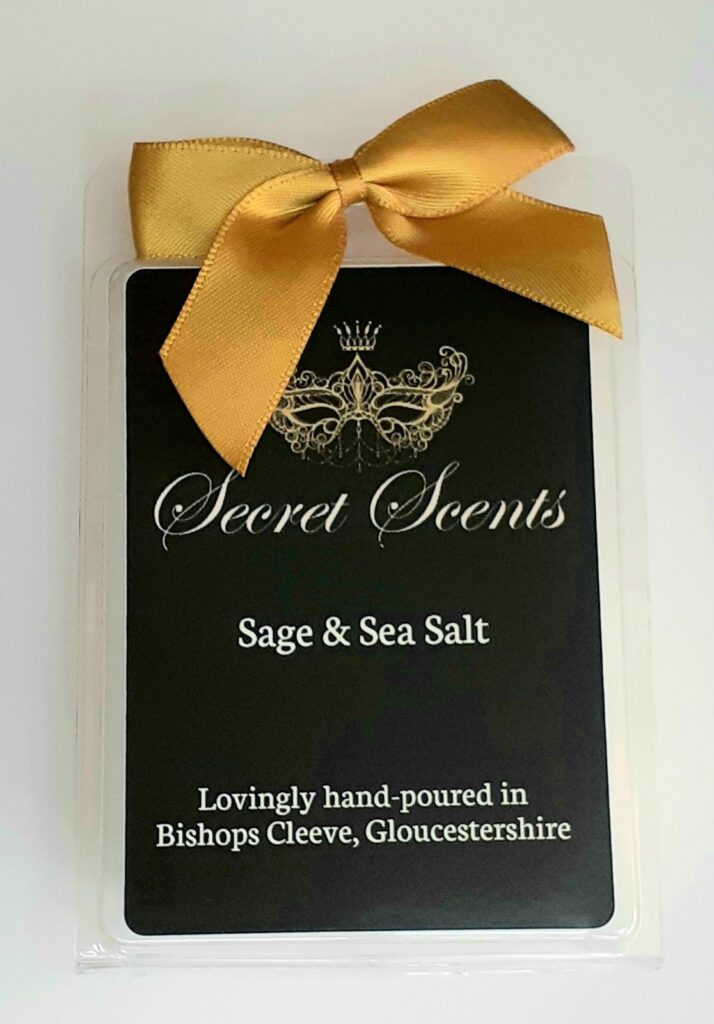 Appearance.
It's a very chunky segmented bar which is made up of 6 squares that snap off when you need to use them. Opening up the packaging, you can see the top of it is flat and white in colour. Turn it around, and not only can you see the segmented sections but also the fact there is an added sparkle. A beautiful mix of gold and black glitter is drizzled on these pieces. This makes it pop against the white background of the wax. Understated yet eye catching.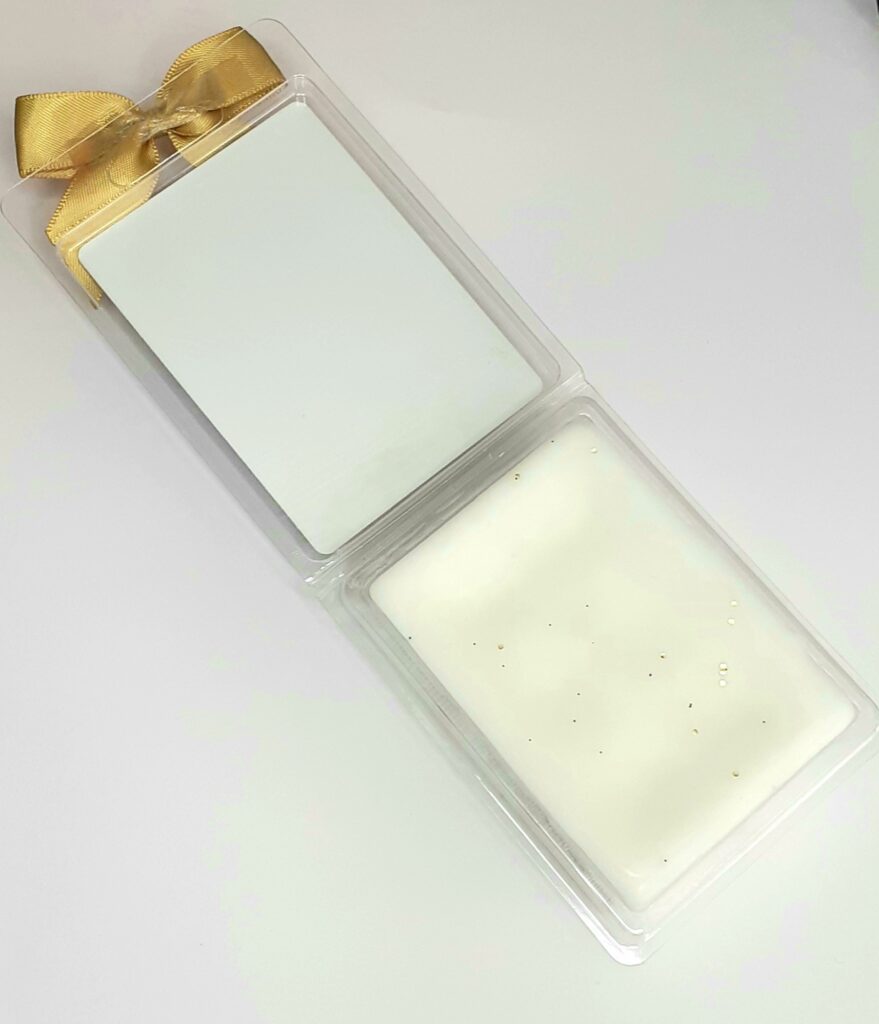 Fragrance.
This has a herbal, slightly earthy and fresh base to it. Having a soft salty addition in the fragrance makes a very clean and refreshing scent. This isn't heady, but does have a powdery edge to it along with a little sweetness. It's a treat for the nose!
In melt.
You only need 1 square of this in a wax warmer. While melting, the wax pool became clear with small amounts of glitter swimming on the top. I used this in both my kitchen and my living room. It melted evenly, and the fragrance was released steadily into each room.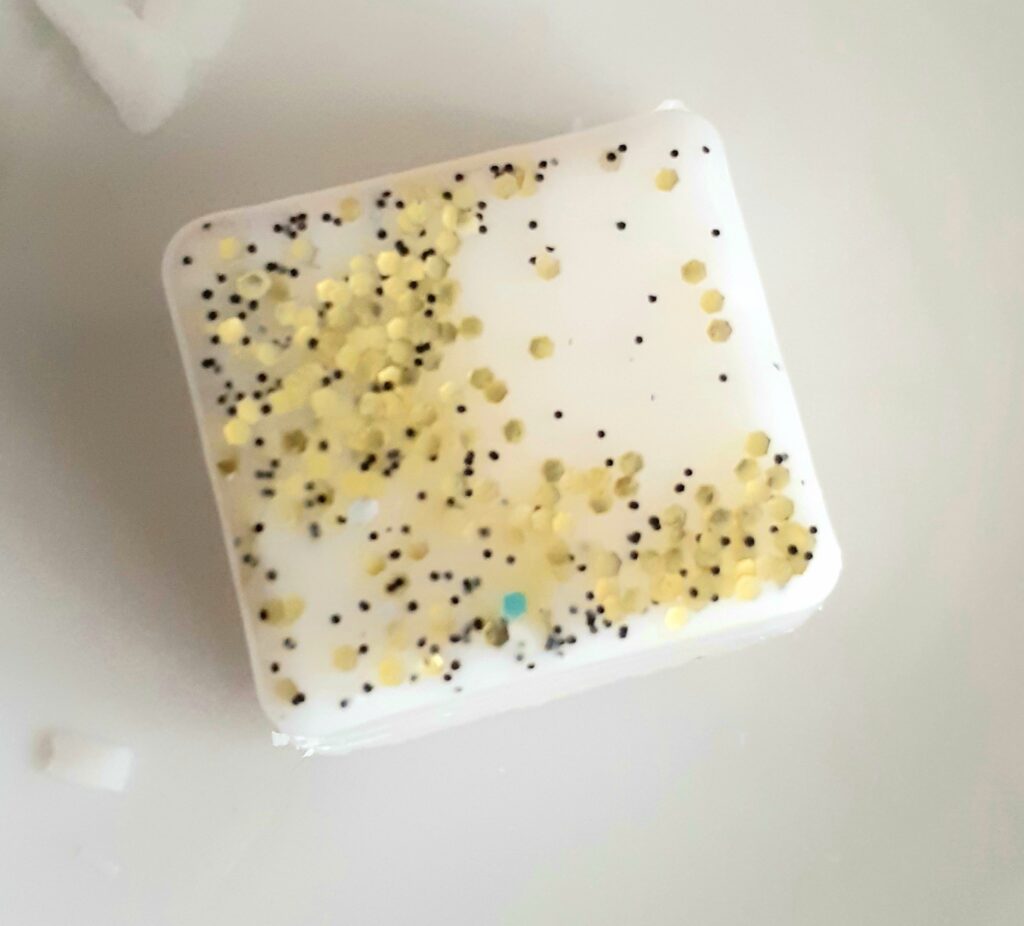 Strength & Longevity.
Strength wise I would say this is light close to being a medium, based on using one square. In fact, I will say medium! It's a hard one to put a label on it because the fragrances this is made up of I don't think are designed to overwhelm, but are meant to be quite natural in smell but with a twist. If this was lavender and sea salt as an example, I would be surprised if it was anything other than strong because lavender is that type of scent. But what I would say, is when this is melting, it's there. It makes the room feel cosy, clean, while bringing inside a bit of the outdoors.
Longevity wise I've had the same square melting in each wax warmer for around 3 days for at least 10 hours and the scent is still there with a good strength.
Recommended?
Totally! If you love your wax melts in fresh and clean fragrances but want something a little more earthy, grab this one! It's very different to your usual clean, laundry style fragrances but gives the same sort of feel but more natural and less harsh. And did I mention Secret Scents products are packaged so beautifully? Great value for the amount of wax you get with lots of hours of melting time. Cost? £5.00 each, or 6 for £25.00. A wide variety of fragrances available, so visit their Facebook page to stock up on your home fragrancing items!