Autumn. My favourite time of the year. Weather wise it's not as extreme as Summer and Winter, and much more cosier in feel compared to Spring. This is the time of the year I want to start hibernating and enjoy looking at the outside from the inside. This is a season when lots of interesting and homely scents are released in wax melt form, and the perfect time for me to make a new order to aide my hibernation. My first official Autumn inspired wax purchased this year was from an Etsy seller called Forest Moon Wax Melts (formally Seraphim Scents). And the fragrance of choice is Apple Butter. This cost £2.00 for 30g of wax melts.
Why did I buy this?
This sounded unusual. Very different, intriguing and as a lover of bakery and fruity scents I didn't think there was anything about this I wouldn't like. And it sounded like an ideal Autumn scented wax to enjoy.
How does these wax melts look?
Most wax I purchase come in one solid piece and are housed in a lidded clear pot. Apple Butter is different. This is 30g of individual pieces of wax. Each piece flat and leaf shaped. All dusted in a shimmering pigment, with some leaves rusty red in colour and some holographic gold. Although I haven't sat counting these out, there's easily about 15-20 pieces of wax. Absolutely stunning wax melts!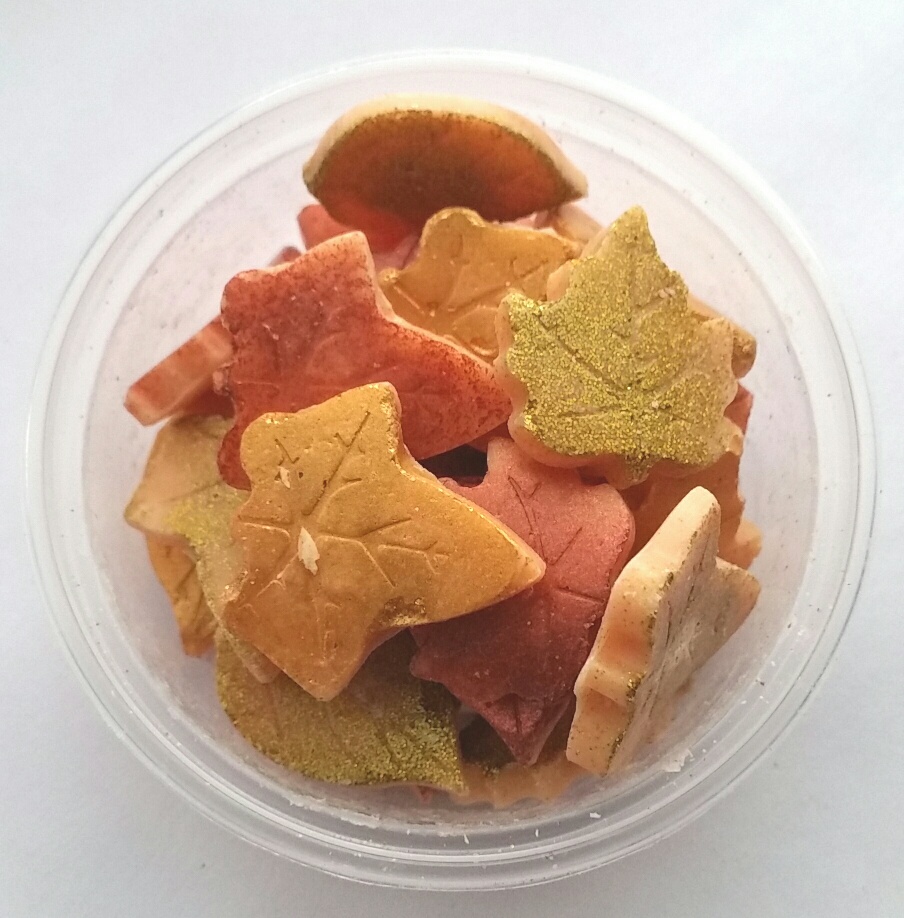 In Melt
I wasn't too sure how many of the leaves to use as they are quite small, but I opted for 6. They melted super quick because of their size, and the fragrance filled my kitchen very quickly. These were a joy to watch in melt. The wax pool shimmered and glistened like molten copper.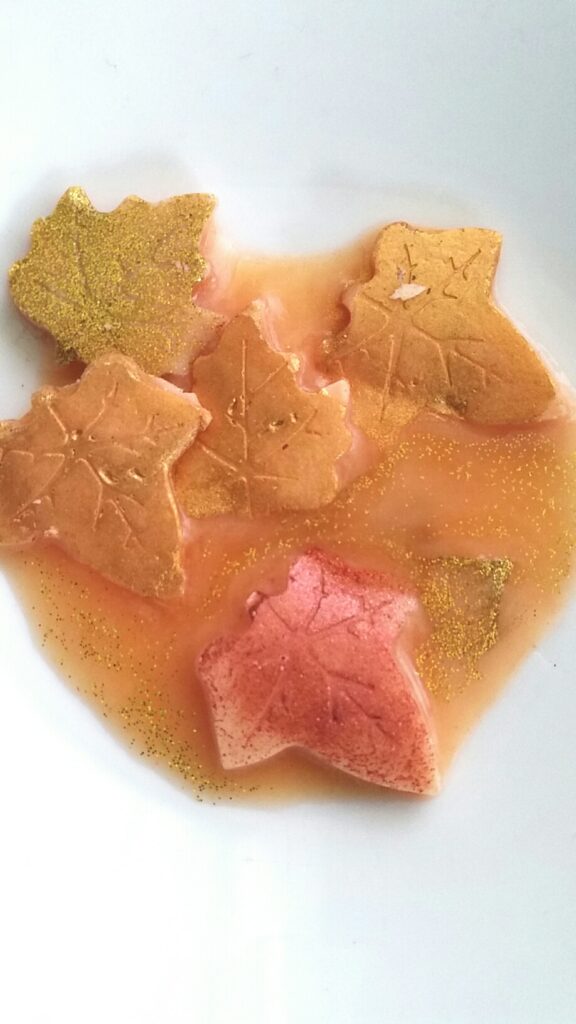 Fragrance
There's a hit of cinnamon in this. It reminds me of a cinnamon flavoured chewing gum I used to buy years ago when on holiday in the USA. So maybe this is more a sweetie take on cinnamon rather than the powdered or stick version. Its not an overpowering element but provides warmth. Once you get the cinnamon then apple comes through soon after. Juicy, crisp apples slowly rolling around in a pan with some butter simmering away with the smallest sprinkle of brown sugar. THIS is the scent I got!
Strength & Longevity
Using 6 pieces of the wax and melted in a small kitchen, I would say this medium in strength. I've had this melting for 2 days now for quite a few hours per day and the scent is still there. So longevity, like strength, is very good.
Recommended?
I absolutely LOVE this wax! Not only is the wax melts beautiful, the scent is amazing too. Its not one I've ever experienced before and if someone was heading towards a seasonal inspired scent, this for me screams Autumn. So if you want a fragrance which is Autumnal, but you don't want to go down the typical route of something like gingerbread, get this! Its not too fruity or bakery like…its perfection!
Want to try this out? Visit their Etsy store here to grab this non calorific treat and get your home Autumn ready!