Wax melts are one of THE BEST ways to fragrance a home in my opinion. I've loved them for years and I don't expect my love for them to die anytime soon. After having a conversation with a customer in work about wax melts and finding out she loved them too, she surprised me with a gift a few days later. She bought me Aldi's Hotel Collection No 4 Freesia & Pear Wax Melt.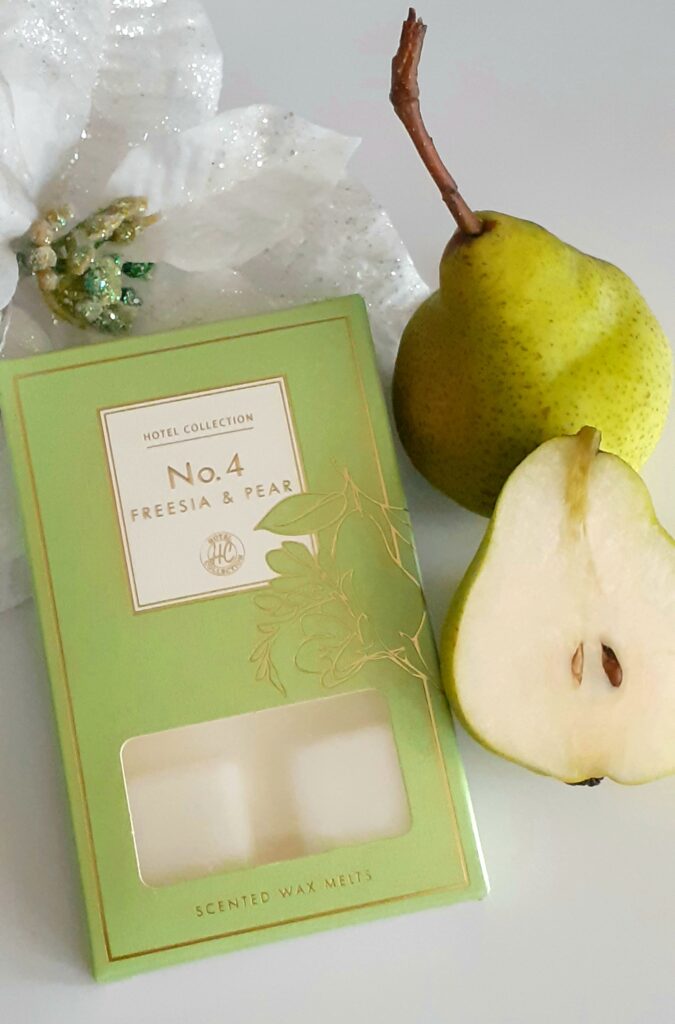 Packaging
This wax melt snap bar comes boxed. Flat, rectangular, slightly textured and in a lovely shade of green with gold detailing. There's a small clear window on the front so you can see the wax melt inside. This looks more expensive than what it is and gives it a luxurious feel to it which I love!
How does the wax look?
This wax is what I would call a wax melt snap bar. It's rectangular, segmented like a chocolate bar so you can snap off a section for use. The only difference I've found with this compared to others I've bought in the past is how flat it is. White in colour with no effects, no glitter, totally plain.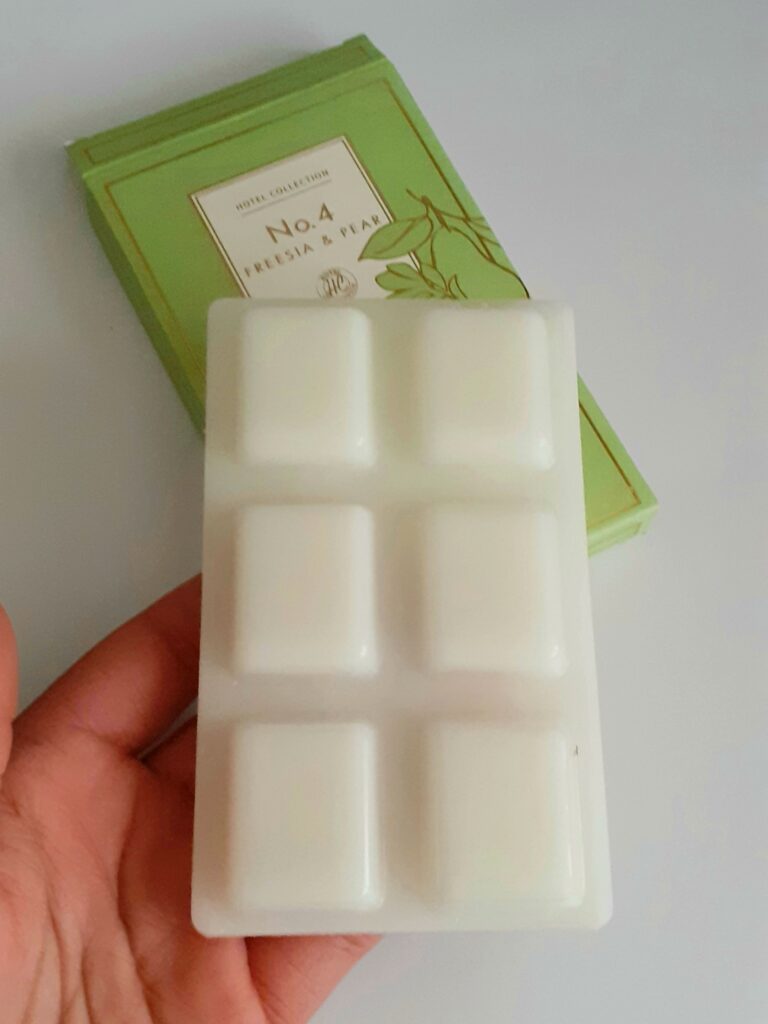 Fragrance
I could actually smell this while it was still in the box. There's definitely a massive hit of white florals in this wax along with a rich and feminine rose. It's very fresh and clean, with an almost powdery scent to it. Do I get pear? Not really. The floral element is quite punchy and a great scent, but I can see how it would overpower other scents that might be added to it if they aren't strong.
In melt
I used one segment of this and expected it to melt very quickly but it took it's time. Before it even started melting the fragrance wafted through and got stronger as the wax became molten. The one thing I missed about watching this wax going from a solid to a liquid was there was no eye catching wax pool. Plain wax, especially when not coloured, can look very boring. But it's the fragrance which is the most important thing.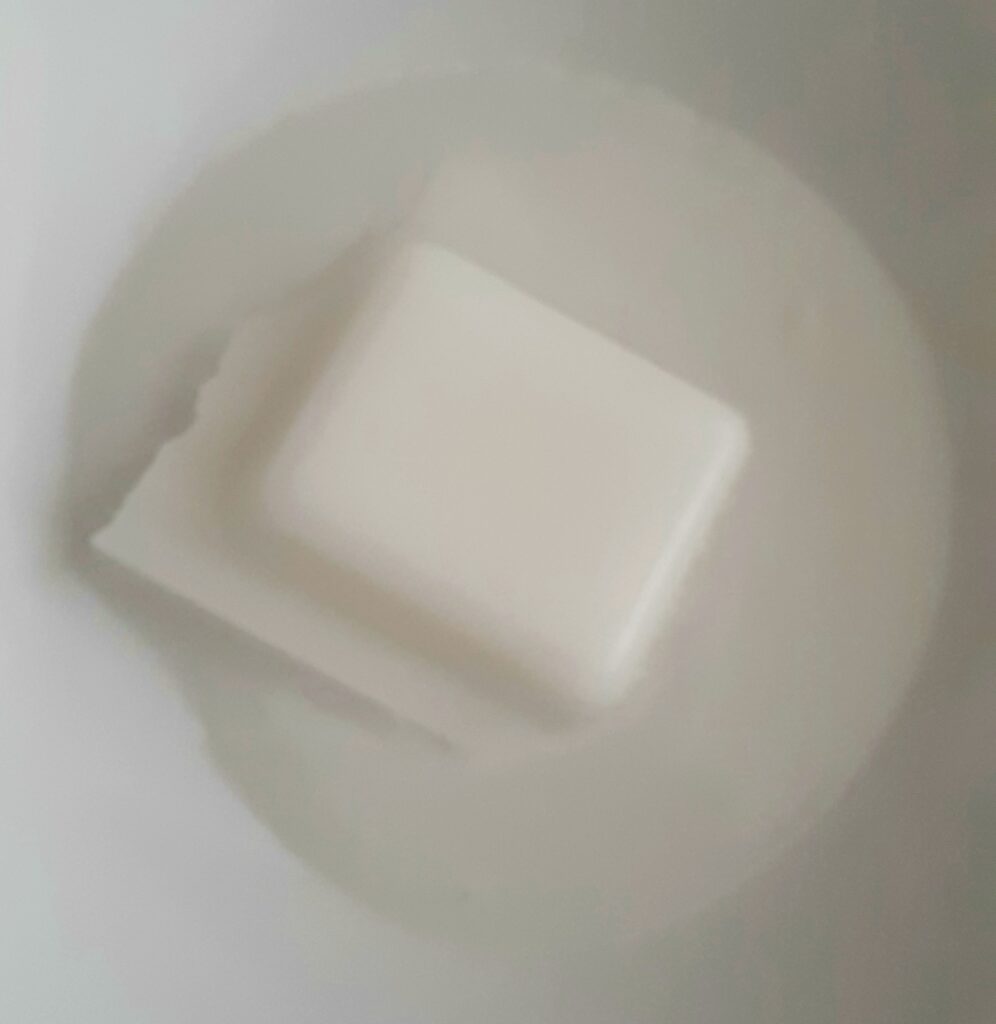 Strength & Longevity
This fragrance really is a noticeable one! It's perfect in strength, which is medium, and this filled my kitchen so well. Normally I use a wax melt over 2 days for a number of hours at a time and this was how I used Aldi's Hotel Collection No 4 Freesia & Pear. It lasted so well and no massive change in strength and scent.
Recommended?
I was actually quite impressed with this wax! Beautifully and practically presented, lovely scent with a good strength and longevity to it. It's a shame the wax looked so basic although the shape was very appealing. So I would totally recommend this and actually buy it myself in the future. If you love your wax melts and are visiting an Aldi store, pick one up and give it a go! And just so you know…there are OTHER fragrances available! Cost? £1.49.