I'm going to be controversial. As a bath lover, bath bombs aren't my favourite bath product. I think they can be fun and create a great bathing experience, but personally I enjoy bubble or bath melt bars more. Why? I find them to be more moisturising than bath bombs and most of them create bubbles too which not all bath bombs do. As a little bath time treat I recently used Bubble Up's Blissed Out Berry Bath Melt Bar. This was in a gift set given to me from a friend for my birthday. Individually this costs £4.49.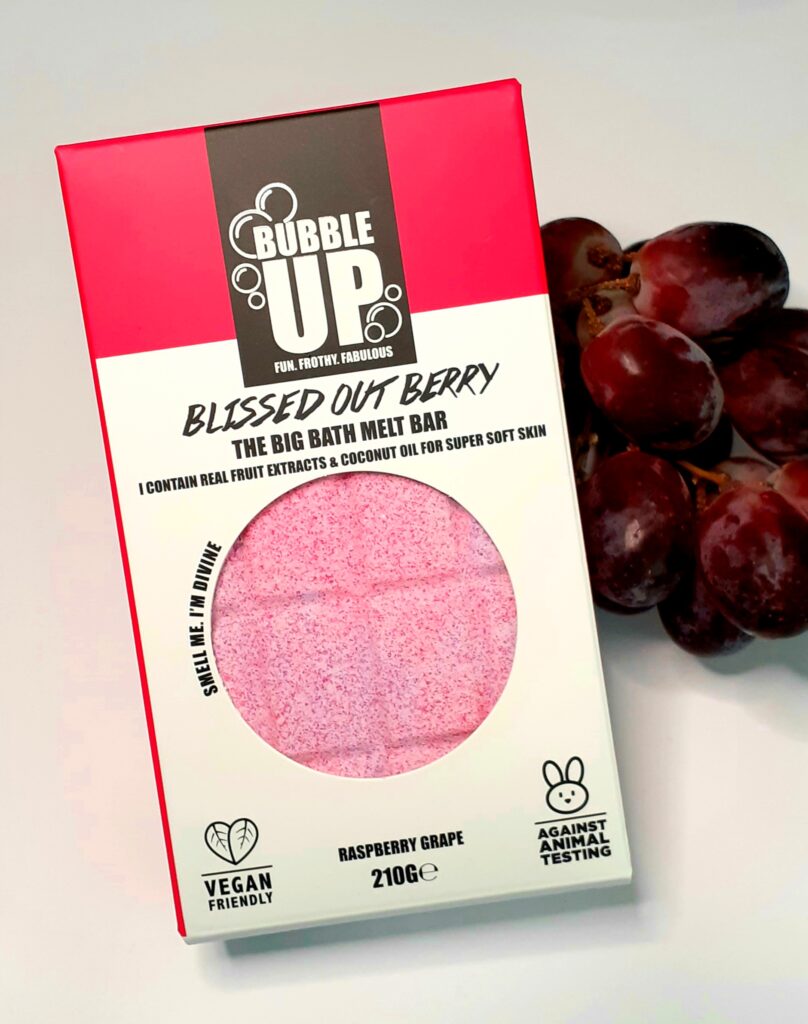 Why did I use this?
I wanted a bit of a pamper and a moisturising bath without having to use a bubble bath or soak and thought of this. When I have the time and a chilled out mindset, this is when I want to use products like this so I did!
What is a Bath Melt Bar?
Bubble Up's Bath Melt Bars are designed to be moisturising (ingredients include coconut oil and grapeseed oil), produce bubbles while creating a fragrant bath.
Packaging
This bath melt bar was wrapped in plastic and then housed in a cardboard box. The front is cut out so you can see it, and the box is simple in look and colour (white, black and red). It's fun and it does stand out.
How does it look?
This bath melt bar is nearly the length of my hand and just as wide. Segmented like a chocolate bar and rectangular in shape. It's not the flashiest in appearance. Colour wise it looks like a very pale pink colouring but actually made up of tiny specs of pink, purple and blue. No design, no glitter or patterns, just plain. And the texture of this is chalky like a traditional bath bomb, thick and quite weighty.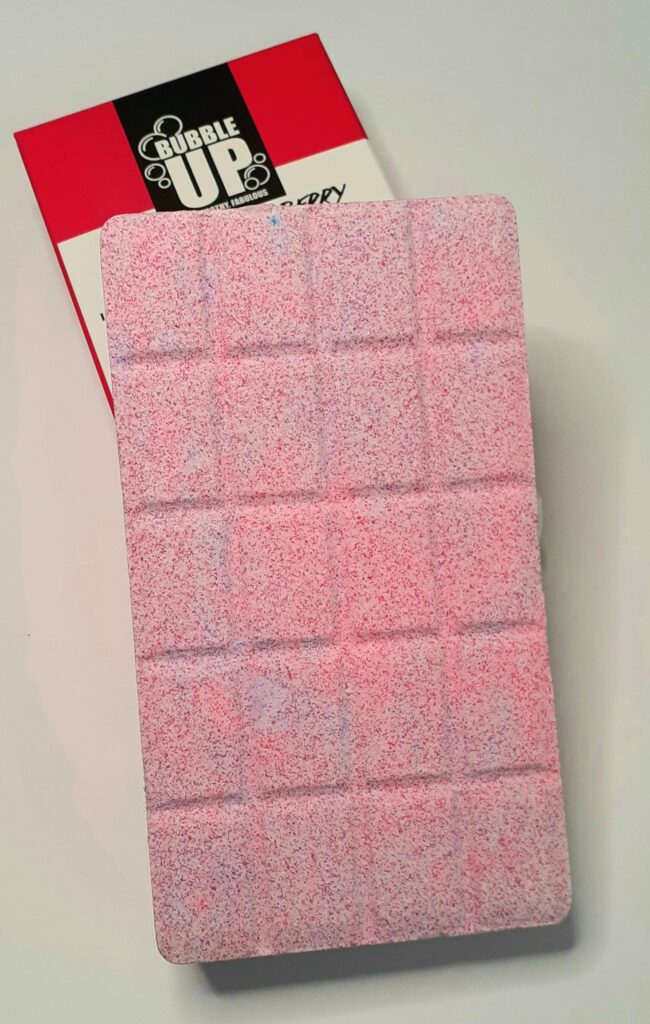 Fragrance
There is a slight raspberry scent to this. Sweet berry like with a little sharpness. But it doesn't smell strong (when taking the bath melt bar out of it's plastic wrapping).
In the bath
Rather than me breaking this up I just threw the whole bar into the bath! It fizzed a little and slowly but surely created some foam and colour. I did have to give it a helping hand by breaking it in two and crumbling sections of this, which created more foam and turned the bath water into a shade of pink. By the time this dissolved the bath was full of fluffy white bubbles over a bed of pink bath water.
The fragrance was incredibly subtle which was slightly disappointing. I really hoped it would be punchy and fragrance the bathroom which it didn't.
The bath itself was very relaxing. Blissed Out Berry Bath Melt Bar really was moisturising because my skin felt silky. I could also feel the drier parts of my body feeling less dry such as the heels of my feet. And out of the bath my skin didn't feel dried out or irritated (which it has been recently).
Recommended?
This is a very, very good bath product. It's a generous size which easily could be used in three baths. It created lots and lots of bubbles which lasted a good amount of time and this is affordably priced. The only downside for me was the fragrance. It needed to be stronger and specific. But I would still recommend it because it performed very well.
This isn't a brand that seems to be readily available instore or online. I've found them, and this product, being sold at The Perfume Shop along with other products from the range.