Have you ever used a brand, fell in love with it and then became totally addicted to anything it's brought out? I have, many times! Many moons ago, before I had children and I had a more disposable income, I was in love with a brand called Philosophy. This is a brand that includes skincare, bath and body products. But my true love was their fragrances. It's not something I've had the pleasure of purchasing recently, but I did found in my stash of 'stuff' their Amazing Grace Eau de Toilette and matching bath and body products. I didn't buy this. I suspect I won this in a competition, my memory isn't how it used to be. A 60ml size of this would cost around the £30.00 mark.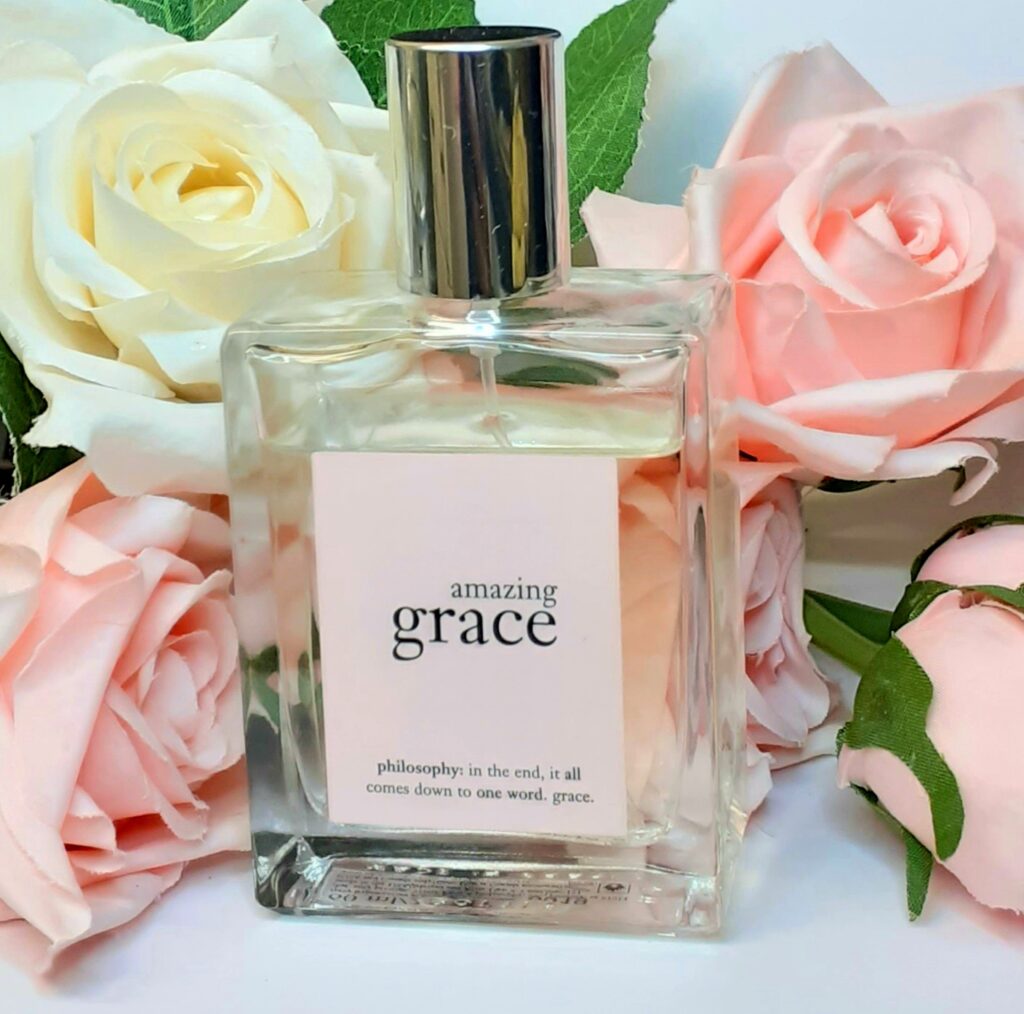 Why have I been using this?
I haven't used anything from this range for such a long time but for some reason I can remember clearly what this smells like. It smells nothing like anything in my current collection of fragrances, body mists and perfumes. I fancied a change, simple. Fragrance can lift and/or change a mood and I wanted something with a different edge to it compared to what I would normally grab.
Packaging
One thing I've realised thanks to writing on my blog is although I like things to look pretty, I also like things to look simple and clean. This fragrance falls into this category 100%! The bottle is rectangular in shape, clear, and made from glass. Quite chunky in feel and look. The label is small, pale pink and totally non fussy with basic info on it. I could have this sat in my bathroom or in my bag aged 16, 35 or 85. This type of presentation is timeless and I think this reflects the fragrance and how it smells being this way as well.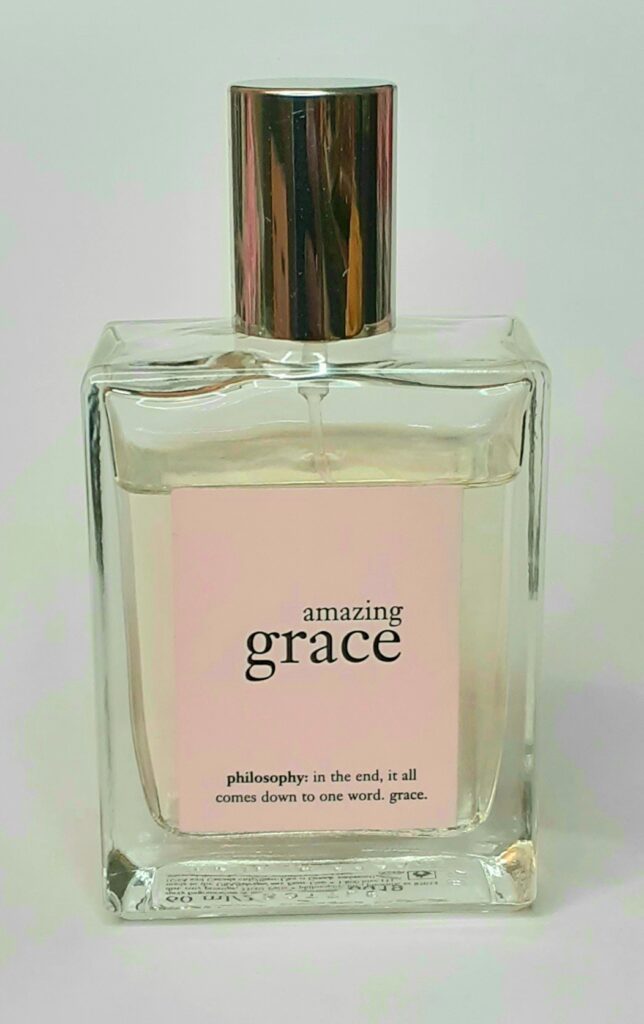 Fragrance
Normally I'm not a fan of straight up floral. I like floral notes when mixed with other things. I don't want to smell a florist, it's not for me. There is no mistaking this is a floral driven scent. It's floral, feminine, very pretty but quite clean in fragrance. There's some form of powdery musk in this which I think gives it that fresh and clean feel and this I adore. But it's a modern fragrance, not old fashioned. It transports me to Spring and Summer when flowers are blooming, blossom is on the trees and leaves are a vibrant shade of green. This smells beautiful and I approve!
Strength & Longevitiy
I'm not shy when it comes to how much fragrance I apply to myself. I never apply fragrance onto my skin, always on my clothing. From Monday to Friday my uniform and coat before work gets spritzed before I leave out of the door. With this, when I come back 5 plus hours later, the fragrance is still there with the strength lessening a touch. But it's still there, still obvious, and still smelling nice. So longevity is good, and strength I would say is close to a medium for a few reasons. When you use this straight away you can smell it. I walk around and every so often I think something smells nice and then I remember it's me! And I only reapply it purely to be extra not for need. It's not a heavy, in your face scent but it is a beauty!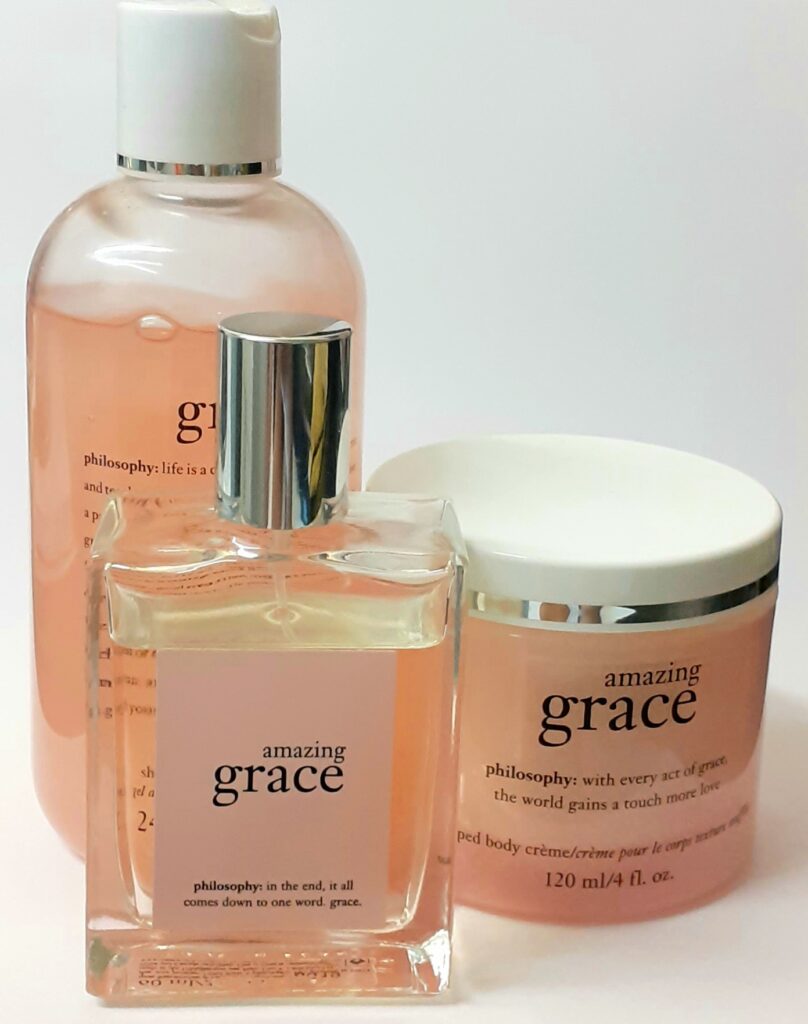 Recommended?
Using Amazing Grace recently has reminded me how much I miss fragrances from Philosophy. I don't know if their formulations have changed since the last purchase I made, but I always loved their scents and they were great to layer and mix with each other. Amazing Grace is so good. It smells like a good quality fragrance. THIS for me is how floral fragrances should smell like if it's more floral based rather than mixed with equal parts of different elements. So if your budget can stretch to this I would definitely recommend this! If possible try other products from this fragrance range too as an added treat for yourself or someone else because they are just as good.
This can be bought from a few different places, including Boots and online retailers such as Look Fantastic. * So if you're looking for a brand that isn't your typical fragrance go to, this one is worth a look. And Amazing Grace should be included in your first purchase.
*This post contains affiliate links, which means if you purchase a product using it, I get a small commission at no extra cost to to yourself.